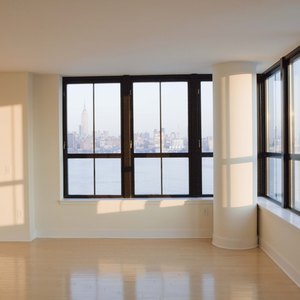 •••
Jupiterimages/Creatas/Getty Images
For many young adults, buying a condominium is the first step to home ownership. Choosing the right condominium is important for protecting your investment while building equity for the future. For seniors, it's the freedom of just closing the door when travel beckons and is a viable answer to downsizing. If an easy lifestyle, without the hassles of home maintenance are what you're looking for, invest in a condominium, but make it the right one.
Make a list of neighborhoods that are appealing, asking yourself if the commute to work is within an easy time frame considering driving, traffic and public transportation. Determine if local amenities suit your style. Visit on weekdays and weekends to get a rounded impression of the neighborhood. Narrow your focus to several buildings and be sure you see their traffic patterns on workdays, weekends and especially weekend evenings.
Look at condominiums that fit your price range, taking into consideration the monthly fees payable to the building's association, taxes, mortgage costs and interior insurance. Discuss with local residents any additional costs and tipping customs for building help. Ask about parking; if a garage is included ask if there's an additional fee to use it.
Consider the interior of the condominium unit and determine if the basic design suits your needs. Major structural changes are difficult to do and may have to be approved by the condominium board. Remodel with the approval of the architectural committee. Speak with board members if you're considering laying tile or wood flooring, as sub-flooring may be a requirement.
Be cautious of buying a condominium pre-construction without going over the builder's contract with a real estate attorney. Determine what your recourse is if the unit is not completed on time and if your deposit is refundable. Buy a used condo if you want reassurance that all the systems and managerial operations are in place, and that the monthly dues are sufficient to have created a comfortable reserve.
Ask the age of the condominium and if any upgrades have been performed on the unit as well as on the building. Note the age of the elevators as they are an expensive item to replace and often incur an assessment. Determine the building's hurricane and earthquake preparedness if it's located in hazard zones, and ask to read its hazard insurance policy. Investigate all amenities in the building, determining the condition of each and if future replacement or refurbishment is in order. Ask if reserves are set aside for these jobs.
Review the condominium's financials before making a commitment. Be sure the reserve account is sufficient and note the number of homeowners who are delinquent in dues payments. Ask how many of the units are owned by people occupying them, and how many are investor-owned, as this affects the unit's ability to be financed with a government-backed loan. Determine the number of units in foreclosure and decide if such a building is a sound investment.
Read the condominium rules and regulations, making sure you can live within their parameters. Ask if there are restrictions regarding leasing your unit and if age is a consideration for ownership. Note the number of current renters and their pattern of living within the condo rules. Absentee owners have difficulty monitoring the behavior of tenants.
Look at the unit and the building in terms of the future. Can you sell it easily when it's time to move? Is the building desirable? Don't buy a unit that's small and may be difficult to sell when a larger unit may cost a little more but yield greater and easier returns.
References
Writer Bio
Jann Seal is published in magazines throughout the country and is noted for her design and decor articles and celebrity *in-home* interviews. An English degree from the University of Maryland and extensive travels and relocations to other countries have added to her decorating insight.