How to Check on the Status of an IRS Tax Return
by K.A. Francis ; Updated March 15, 2018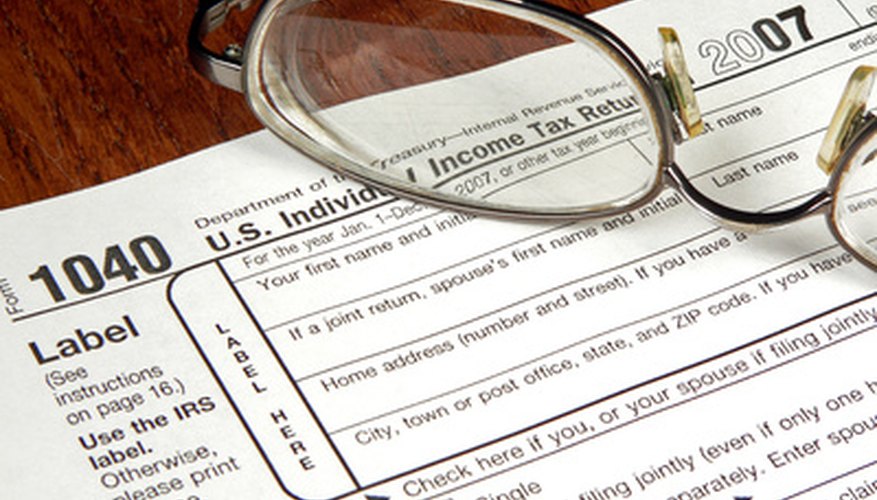 After you've filed your tax return for 2017, you might want to keep track of its filing status, especially if you're expecting a refund. There are several ways you can do this, but it will require you keep track of specific information regarding your tax return.
Tax Return Status
After you file your taxes, the IRS either accepts or rejects your return. Once accepted, the IRS puts your return in the process queue. To check if your tax return has been accepted by the IRS, you can take the following steps.
If you filed by mail, call the IRS at 1-800-829-1954 and follow the prompts. It can take a week or more for your mailed return to make it to its assigned tax center and be processed, so waiting two weeks or so before you check on the status of your federal tax return makes sense.

If you filed electronically you'll find out much sooner, in some cases an hour or two after filing, but usually within 72 hours. If you use tax software or a web application, such as TurboTax or TaxAct, once you've filed your return, the IRS sends an email alerting you whether your return has been accepted or rejected. If the return is rejected, instructions detailing the next steps required for the return to be refiled and accepted are included in the email.

Checking on a Tax Refund
Now that the IRS has accepted your return, the wait for it to be processed and receipt of the refund check begins. The amount of time it takes for you to get your refund depends on how you chose to receive it. Regardless of how you filed, you'll need the following information to check the return's status:
Your Social Security number (if filing single, married filing separately or head of household) or the Social Security number of the primary tax filer (if filing a joint return)
Filing status of the tax return
Exact amount of the refund

Two methods are available to check your tax refund status: Call the IRS customer service number or log onto the IRS website and use the "Where's My Refund" tool. Both methods require you to input the information mentioned above.
If you elected to have your refund check mailed to you, expect to receive the check within a few weeks after your return is processed. From the moment you mailed your tax return to the day your refund check arrives in the mail is about six weeks to two months. The wait could be longer the later into the tax season you file.
If you chose direct deposit as your refund option, it generally takes two to three weeks for the refund to show up in your bank account. Filing electronically is faster than mailing in your tax return, so if you need your refund sooner, consider filing electronically and opt to direct deposit your refund into your bank account.
Video of the Day
Brought to you by Sapling
Be Patient
The IRS updates tax return status once a day, and refunds are processed twice a week. The first batch to be processed each week consists of refunds for direct deposits and the second batch are checks that are mailed to taxpayers.
Tips
Although most people opt to receive their refund as either a check or a direct deposit, there is a third option: You can purchase a U.S. savings bond with your refund from the IRS.
Cite this Article
Choose Citation Style
Francis, K.A.. "How to Check on the Status of an IRS Tax Return." Pocket Sense, https://pocketsense.com/check-status-irs-tax-return-7336497.html. 15 March 2018.
Francis, K.A.. (2018, March 15). How to Check on the Status of an IRS Tax Return. Pocket Sense. Retrieved from https://pocketsense.com/check-status-irs-tax-return-7336497.html
Francis, K.A.. "How to Check on the Status of an IRS Tax Return" last modified March 15, 2018. https://pocketsense.com/check-status-irs-tax-return-7336497.html
Note: Depending on which text editor you're pasting into, you might have to add the italics to the site name.