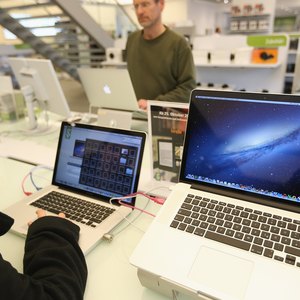 •••
Sean Gallup/Getty Images News/Getty Images
The cost of hiring a tax preparer can be almost as intimidating as preparing the tax return itself. Tax preparation fees are often arbitrarily set, making it difficult to determine the benchmark or base price for tax preparation costs. Thankfully, competition in the tax preparation business has produced an environment where accessing cheap online tax preparation is easy.
Franchise
For most taxpayers, hiring a franchise tax preparer is not the cheapest method for filing an electronic return. This is simply because many of them use the same type of online software that is readily available to most taxpayers but they charge higher prices. According to the National Association of Tax Preparer's Fee Study, the average cost of filing a return with franchises such as H&R Block or Jackson Hewitt is $187.00, much higher than that of their online competitors. One of the benefits to hiring a tax preparer, though, is the convenience of having the preparation fee deducted from the actual refund. However, today many online tax companies offer the same service.
Free File
Taxpayers who earn less than $56,000 per year are eligible for the IRS Free File program. You can access the IRS list of Free File providers at www.IRS.gov. Most of the providers for the IRS Free File program are online providers (such as Tax Act and Turbo Tax) who have agreed to become a part of the IRS Free File partnership. If you have additional questions about the IRS Free File Program, call the IRS at 1-800-829-1040.
E-File
E-file tax preparation services such as Turbo Tax, Tax Act, and Tax Slayer offer service fees much lower than that of both franchises and CPA's. For instance, the cost of preparing a return with Turbo Tax begins at $29.95 and for Tax Act, $19.95. Online tax preparation services do not have to cover the overhead costs of employees, offices, etc. and can therefore afford to offer a cheaper service.
CPA
According to the National Society of Accountants, the average cost for having an accountant complete your return is $115. Although this price is cheaper than that of franchise tax preparers, it's not as cheap as online tax preparation.
References
Writer Bio
Denise Caldwell is a finance writer who has been writing on taxation and finance since 2006. Her articles appear regularly on websites such as Gomestic.com and MoneyNing.com. She has taken what she learned while working at the IRS to provide readers with helpful tax and finance tips. Caldwell received a Bachelor of Arts in political science from Howard University.