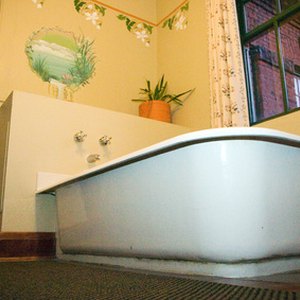 Using cheap materials to remodel your bathroom can help keep your bathroom renovation on budget. These days, inexpensive doesn't have to mean poor quality, so don't get stuck with a look that doesn't help your home. With a few inexpensive updates, you can have your worn-looking bathroom looking fresh and up to date.
Paint
One of the most inexpensive home improvement items, a coat of paint will update almost anything in your bathroom, from an old vanity to the walls to the decades-old knotty pine paneling. Paint walls a bright white or bold color to add a bit of flavor to your bathroom. If bold walls seem a bit much, think about using a bright shade as an accent color on furniture or trim. For a professional look, before you add your color, don't forget to prime.
Hardware
For a single, quick bathroom update or as a finishing touch to an overall budget renovation, replace your bathroom hardware. Purchase knobs and pulls for cabinets and drawers at your local home improvement store. Although faucets and bathtub hardware can get pricey, they don't have to be. You can find inexpensive options at discount stores, department stores, and your local home improvement store.
Light Fixtures
A little light can go a long way, and you can switch out a light fixture or two in a couple of hours. Light fixtures run the gamut when it comes to price, so keep price in mind as you look at your options. To save some cash, buy a nicer fixture with a cheap glass cover. You can always replace the cover at a later date.
Paneling or Wainscoting
Elaborate wainscoting can cost you a pretty penny, but wainscoting sheets or paneling can update a room's walls without burning a hole in your pocket. Typically made to look like board, wainscoting is made from wood, plastic or MDF, and it can be installed over old, cracked tile, saving you time. A cheap alternative to most bathroom building materials, paneling is often made to look like other materials, such as tile. However, if you go with paneling, be sure to use a water resistant or waterproof option in your bathroom.
Reused Items
If your tastes run toward the finer things but your pocketbook can't afford it, look into reused items in your area. Most cities have at least one reused building materials store, and although merchandise rotates out, you can usually find everything from pedestal sinks to bathtubs to tile in good condition for close to half the price of what you would pay in a home improvement store.
References
Writer Bio
Sienna Condy began writing professionally in 2001 while attending the University of Cincinnati, and she's been at it ever since. Since graduating, she's written everything from marketing materials to articles on removing stains. Today, she enjoys writing about weddings, legal issues, science, health and parenting.