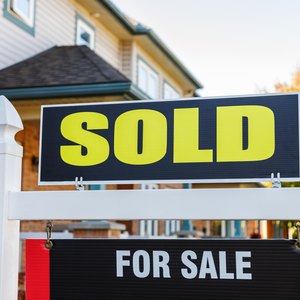 •••
Iryna Tolmachova/iStock/GettyImages
The deed to your house is proof that you own the house and provides details of the sale transaction and ownership transfer to you. After a home sale, you or your agent files a copy of the title with your county recorder's office.
You won't need to use your deed if you're not selling your house, and you'll get a copy to transfer when you sell your house. But if you'd like to have a certified copy for yourself, the process isn't complicated. Reviewing how to get a copy of property deeds will help you obtain yours in the shortest amount of time possible and without having to jump through hoops.
Understand Deed vs. Title
People often interchange the words "deed" and "title" to refer to real estate documents, but a deed is different than a title, explains Atlantic Bay Mortgage Group. A title is proof that you own a house and can modify it, give it away or sell it. A deed is a record of the transaction that gave you ownership of the property. If you want a certified copy of your house deed, make sure you use the word "deed" and not "title."
Types of Deeds
Depending on the type of real estate transaction you're involved in, you will get a general warranty deed, special warranty deed, quitclaim deed or special purpose deed. Quicken Loans provides an explanation of each type and why they are issued.
Prepare Your Information
Before you contact anyone for a copy of your deed, get the information you'll need to present ready. That will include the street address and parcel number of the property. You can get the parcel number, or property ID number, from your property tax bill or from your state tax assessor's office.
Let's say you live in Marietta, GA, in Cobb County. Go to the website for the Cobb County Board of Tax Assessors. Look for the "Personal Property" menu option and hover over it. Look for the "Personal Property Search" option and click on that. Enter your property's address or the owner's name in the appropriate box and you'll be taken to a page that lists your property information, including the parcel number.
Contact Your County Office
Your house deed gets submitted to your county recorder office or registrar's office. You can find your county recorder's office using an online search or you can use a website like Deeds.com, which has a search function covering all states. In Georgia, for example, deeds are filed with the clerk of the court in each county.
Follow the steps to get a certified copy of your deed, which might include coming into the recorder's office or performing a search and request online. Be prepared to pay fee for a copy of your document.
Use a Commercial Source
You can use a title search company, contact the real estate attorney who handled your sale, or search online with the phrase "get a copy of my deed" to find businesses that help consumers get copies of deeds. Title search companies charge a fee on top of any county fees. The title company that handled your real estate title search might be able to get you a copy of your deed for free – ask if it will be certified.
Contact your mortgage company to see if they can send you a copy of your deed and if it will be certified. In some states, mortgage companies are required to provide you with your loan documents for a certain number of years after you take out the loan.
References
Tips
Keep the house deed with your personal records.
Writer Bio
Steve Milano has written more than 1,000 pieces of personal finance and frugal living articles for dozens of websites, including Motley Fool, Zacks, Bankrate, Quickbooks, SmartyCents, Knew Money, Don't Waste Your Money and Credit Card Ideas, as well as his own websites.