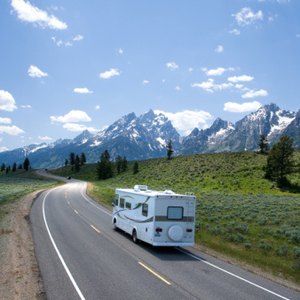 •••
Jupiterimages/Photos.com/Getty Images
Each state's Department of Motor Vehicles administers the state's vehicle registration and titling laws. In Florida, the Department of Highway Safety and Motor Vehicles is responsible for administering the state's title requirements. All Florida residents must register and title their vehicles by completing an "Application for Certificate of Title With/Without Registration" form and pay associated title and registration fees for qualified vehicles.
Certificate of Title Requirements
In Florida, all vehicle owners must title their vehicles with the Department of Motor Vehicles. The Florida Department of Motor Vehicles provides exceptions to the title requirements for owners of motorized bicycles, mopeds and trailers that weigh less than 2,000 pounds. The 2010 Florida Statutes, Chapter 319, Title Certificates, establishes the statutory basis for the state's vehicle registration laws.
Timing
Purchasers of new vehicles must title their vehicles at the time of purchase or when they become new residents of Florida after titling their vehicles in other states. Additionally, purchasers of used vehicles must change the title certificate transferring ownership to them from the vehicles' previous owners. Previous vehicle owners must provide a sworn affidavit warranting the actual odometer reading at the time of sale. Antique vehicle sellers must provide additional affidavits guaranteeing authenticity.
Documents
To apply for a certificate of title, vehicle owners must have proof of required insurance coverage and proof of ownership. They must also purchase or transfer license plates and record any liens if they obtained financing to purchase their vehicles. At the time they register their vehicles, they will pay sales taxes, certificate of title registration fees and recording fees. Basic title fees at the time of publication ranged from $75.25 to $85.25, depending on the status or history of previous vehicle ownership and registration. Owners must pay additional fees to record liens with the Florida Department of Motor Vehicles.
Transferring Ownership
If a vehicle is transferred through sale or gift, the new owner is responsible for transferring legal title by providing a bill of sale or other proof of new ownership. Florida law requires vehicles owners to obtain liability insurance coverage on their vehicles, and vehicle owners must supply proof of coverage. In addition to completing registration documents, owners must also pay local tax fees to the local Department of Revenue tax collector's office in the county they register their vehicles. Vehicles transferred by will or trust must also be legally titled to new heirs or beneficiaries.
Considerations
Since state laws can frequently change, do not use this information as a substitute for legal advice. Seek advice through an attorney licensed to practice law in your state.
References
Writer Bio
Jill Stimson has worked in various property management positions in Maryland and Delaware. Stimson worked for the top three property management companies in the commercial industry and focuses her career on property building logistics and tenant relationships. She holds a Juris Doctor and a Bachelor of Science in psychology.