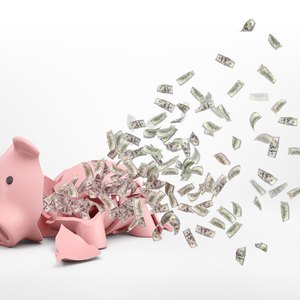 •••
Gearstd/iStock/GettyImages
The Indiana Public Employees Retirement Fund (PERF) provides public-sector employees with retirement benefits. You have several different options in plans, and you have a limited time after your hire date to make a decision. If you are new to PERF, Indiana offers some excellent opportunities to boost your retirement, but the system can be confusing.
Who Is Eligible for PERF?
Do Indiana state employees get a pension? To be eligible for PERF, you must be hired as a full-time employee in a PERF-covered position. Teachers are eligible for the Teacher's Retirement Fund. The plan clearly defines who is not eligible. Some of those who are ineligible include:
Employees hired for a temporary emergency.

Independent contractors.

Elected officials.

Employees covered by another retirement plan.
Employees who re-employed after ​July 1, 2013​.
The plan lists others who are ineligible, such as those who were hired in a position that requires less than ​600​ hours during the entire year. Those who are eligible for another retirement plan include police officers, firefighters, county sheriffs, judges, legislators, gaming agents and conservation enforcement officers.
How Does Indiana PERF Work?
If you are eligible for PERF, Indiana offers two different plans. You can choose the PERF Hybrid or My Choice plans. These options are different depending on whether you are an employee of the state or employed by a local government or political subdivision.
One thing that you need to know about the Indiana Public Retirement System, or INPRS, is that you only have ​60 days​ from your date of hire to decide on the plan. If you do not choose, the state will automatically enroll you in the default plan. This choice is irrevocable.
What is a PERF number? When you sign up for PERF, you will be assigned an INPRS Pension Identification Number (PID). Once you have that number, you can register for an online account where you can manage your information and find out information about your account.
You will be assigned a PIN, which you will need to log in, but you do not need your PID to register for an online account. You can find your PERF number by logging onto your account and following the appropriate link on the homepage.
Can I Cash Out My PERF?
From the date you start employment, you are not vested until you have reached 10 years of service. You earn service credit for each period of employment. In some cases, you can earn service credit through military service or by taking certain types of eligible leave. Certain types of approved leave will not make you lose eligibility.
Sometimes, unexpected situations arise, and you might be wondering: can I withdraw money from my PERF? If you need to withdraw the money from your PERF, Indiana only allows you to do so if you are no longer employed with the state. At that time, you can withdraw your cash or roll over the amount to a different retirement account.
You cannot withdraw it if you take another position that is covered by PERF. If you return to another PERF-covered position within ​30​ days, you will not be able to withdraw your money. The same rule applies even if you return to part-time employment with the state.
If you are no longer employed and are allowed to withdraw money from PERF, you need to understand that you will be taxed at a rate of ​20​ percent federal withholding. You might also have to pay state withholding. If you roll it over to another tax-deferred account, you will not have to pay withholding and the money will be taxed when you begin receiving retirement distributions.
References
Tips
Members eligible for reduced or unreduced pension benefits must start PERF annuity benefits before distributions from ASA are permitted. Eligibility starts at age 50 with a minimum of 15 years of service. Ten years of service for those age 65 or older establishes eligibility.
Warnings
Distributions of tax-deferred funds are added to personal taxable income for the year the money is withdrawn. A 1099-R is sent to record the taxable distribution when filing personal income taxes.
Writer Bio
Adam Luehrs is a writer during the day and a voracious reader at night. He focuses mostly on finance writing and has a passion for real estate, credit card deals, and investing.