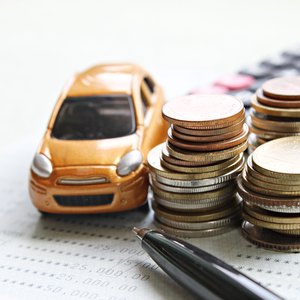 •••
sureeporn/iStock/GettyImages
Auto insurance protects you against financial liability in case you get into an accident. It can pay for all or part of the costs to repair or replace your vehicle or other vehicles involved in an accident. It can also cover the costs associated with accident-related bodily injury to yourself or others.
Car insurance rates, sometimes called car insurance premiums, represent the amount you pay for various types of coverage. Rates vary based on many factors. If you're looking for cheap car insurance, it pays to shop around and get a variety of auto insurance quotes to compare coverage packages. It also helps to understand the methodology by which car insurance companies set rates as well as things you can do to lower your car insurance costs.
Types of Auto Insurance
There are three different types of car insurance coverage: liability, collision and comprehensive coverage. Liability insurance pays in case you get into a car accident and damage someone else's vehicle or personal property or injure another person. Collision insurance pays all or some of the repair costs if your vehicle is damaged in an accident.
Comprehensive coverage pays to repair or replace your vehicle if it's been damaged by factors not related to driving. For instance, comprehensive coverage would pay to repair or replace your vehicle if it is damaged from weather, fire or falling objects, such as a tree landing on it in your driveway. Some comprehensive insurance includes glass coverage in case your windshield or window is chipped, cracked or broken, such as by flying debris on a highway.
Is Car Insurance Required?
All ​50 states​ require property damage liability coverage, while every state except Florida requires bodily injury liability insurance. If you have an auto loan or a leased vehicle, your finance company may require you to carry collision insurance and comprehensive coverage. If you own your vehicle outright, you may still want to protect yourself against financial loss if you get into an accident with a collision policy or comprehensive insurance coverage.
How Are Car Insurance Rates Set?
Auto insurance rates are determined by a number of factors and can vary widely based on the company you choose. The National Association of Insurance Commissioners quotes the average auto insurance rate at ​$1,134​ per year, per car, but this number changes dramatically depending on:
the type of car;
the state you live in;
the types of coverage and coverage levels;
personal factors such as your driving record, age, and credit score.
Let's explore the different factors that go into car insurance rates for your specific policy.
How Coverage Levels Affect Your Insurance Costs
Obviously, a comprehensive insurance package will cost more than carrying just basic liability coverage. Dave Ramsey recommends carrying liability coverage worth ​$500,000​ for both property damage and bodily injury. Your state may also have minimum coverage levels you need.
If you add a collision policy, your auto insurance will pay for damage to your vehicle even if it's your fault. Finally, comprehensive coverage pays for any damage to your vehicle, and is the priciest policy you can purchase.
Other Optional Insurance Coverage
You can also add other types of coverage to your auto insurance policy, including personal injury protection (PIP). This coverage provides payments for bodily injury for yourself or other people in your vehicle. Liability insurance only covers the drivers and passengers in other vehicles. PIP covers the medical bills and other related expenses of those involved in an accident regardless of who is at fault.
Guaranteed auto protection, or GAP coverage, reimburses you for the full amount of what's left on your auto loan if your car is totaled in an accident, regardless of the vehicle's value at the time of the accident. Often, new cars depreciate in value faster than the owner can pay off the auto loan. GAP coverage ensures that if your vehicle is totaled, insurance pays off the loan.
What Influences Your Individual Car Insurance Premiums
In addition to the policy and coverage levels you choose, a number of personal factors can affect your car insurance rates.
​Age –​ Teen drivers are three times more likely than drivers ​aged 20+​ to get into a fatal car crash, according to statistics from the Centers for Disease Control and Prevention (CDC). That's why car insurance for teens, and even drivers ​under 25​, tends to cost more. However, some insurance companies offer discounts for younger drivers with good grades in school. College students may be able to save money with a policy based on how often they drive, especially if they don't drive much while they are away at school.
​Marital status –​ Statistics show that married drivers have fewer insurance claims, so car insurance costs often drop after a driver ties the knot.
​Credit score –​ If you have poor credit, you may pay more for car insurance. On the other hand, drivers with excellent credit scores might be able to save money on their policies.
​Driver profile –​ If you have a clean driving record, you pay less for the same auto insurance coverage as someone with a history of speeding tickets or accidents. If you've made frequent auto insurance claims, you can expect your car insurance rates to go up. If you have a DUI (driving under the influence) on your driving record, it could be harder to get car insurance. If you do get an auto insurance policy, you could be placed in an "assigned risk," category, which means you'll pay higher rates and won't qualify for the best coverage.
Certain moving traffic violations put "points" on your drivers' license, which can drive up your car insurance premiums. You can stay safe on the road by following posted signs, obeying the speed limit, staying off your phone and never driving while distracted.
How the Vehicle You Drive Can Change Your Auto Insurance Quotes
Some cars cost more to insure than others based on a variety of factors. Of course, the overall value of the car affects the cost of comprehensive and collision coverage.
Cars with greater horsepower or turbochargers, which can go faster and accelerate more easily, often cost more to insure. Insurance companies assume drivers may speed in sportier cars, creating a greater accident risk.
Some luxury cars are more expensive to insure because parts cost more to repair or replace. Cars that are frequently stolen may have higher comprehensive coverage insurance rates due to the increased risk of a claim.
On the other hand, vehicles with enhanced safety features or anti-theft devices may qualify for auto insurance discounts.
Ways You Can Lower Your Auto Insurance Rates
Although some form of car insurance is mandatory for all drivers on the road, you can find ways to save money on your car insurance premiums.
First, be sure to get a variety of car insurance quotes and compare coverage levels and car insurance premiums. Some companies specialize in drivers who have poor credit or a history of tickets or accidents in their driver profiles. Others specialize in rewarding drivers with a clean driving record with discounts and lower rates.
If you have points on your license from moving traffic violations, you may consider taking a defensive driving course to remove those points and improve your driver profile. The length of time tickets stay on your driving record varies by state, but if you take steps to maintain a clean driving record, you're likely to pay less for auto insurance.
You may also save money on car insurance rates by bundling your car insurance with other policies under the same company. For instance, if you have your homeowners insurance and your auto insurance with the same company, the insurance company is likely to offer a multi-policy discount.
You may also earn loyalty discounts for staying with the same insurance company year after year. But even if you feel you're getting cheap car insurance from your current insurance company, it doesn't hurt to shop around annually to see if you can find a better deal.
Finally, you can reduce your overall car insurance costs by reducing your total coverage amounts or eliminating certain types of coverage if they aren't mandated by your state. This could include increasing your insurance deductible, which is the amount you're required to pay out of pocket before insurance covers the rest.
References
Writer Bio
Dawn Allcot is a full-time freelance writer, content strategist, and founder of GeekTravelGuide.net, a travel, technology, and entertainment website. A seasoned finance writer, her work has appeared on Forbes, Bankrate, Lending Tree, Solvable, Moneycrashers, and many other personal finance sites, including the award-winning Chase News & Stories portal. With more than 20 years editorial experience, Dawn seeks to take complex concepts and simplify them for today's busy readers. Whether she is writing about taxes or technology, her goal is always to educate, inform, and entertain.