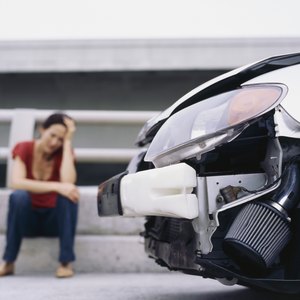 •••
George Doyle/Stockbyte/Getty Images
Most car insurance policies cover your liability when you rent a vehicle within the United States. However, covering liability isn't the same thing as covering the car. Depending on the type of insurance you carry, you might still need to either use credit card insurance, use your employer's insurance if you're renting for business, or buy additional insurance at the rental counter.
Liability Insurance
Liability insurance serves a specific purpose. It pays the cost of any damage that you do with a car to someone else's property. If you're driving your rental car and you hit a sign, the liability insurance will pay to repair the sign. If you hit someone else's car, your insurance will pay to fix their car and, if they're injured, for their expenses. Generally, your auto insurance policy will give you the same coverage in a rental car that you have in your own car, although it's always a good idea to read the fine print to be sure.
Liability for the Car
When you rent a car, the rental agency also holds you responsible for their vehicle. With your auto policy, collision and comprehensive covers your car against being damaged in an accident where you're at fault and against theft or other forms of damage. If you carry this coverage, it should carry over to the rental car. Some people who drive inexpensive cars might not have this coverage, since the cost of the insurance plus the deductible could add up to more than the value of the car. If this applies to you and you damage the rental car, you could be on the hook for the damage you cause. You could also be liable if you have full coverage on an inexpensive car and you rent, and wreck, an expensive rental car.
Liability for Lost Income
Even if you have liability, collision and comprehensive coverage, your rental car agency might still find a way to hold you liable. If you get in an accident where you're to blame for the damage and the car needs to be repaired, the rental agency won't be able to rent that car out to anyone else. It may hold you responsible for the loss of rental income while the car is in the shop. Most insurance policies don't cover this expense.
Uncovered Situations
Finally, there are some situations where you won't be covered at all, even if you have your own iron-clad policy. U.S. auto insurance doesn't work in every country, so if you travel internationally, you may need international rental car insurance. Your policy may also exclude certain types of vehicles, such as exotic vehicles or commercial vehicles. Finally, you could also end up in a situation where you get sued above your limit. In those instances, your insurance could cover you, but it might not be enough to cover your entire loss.
References
Writer Bio
Steve Lander has been a writer since 1996, with experience in the fields of financial services, real estate and technology. His work has appeared in trade publications such as the "Minnesota Real Estate Journal" and "Minnesota Multi-Housing Association Advocate." Lander holds a Bachelor of Arts in political science from Columbia University.