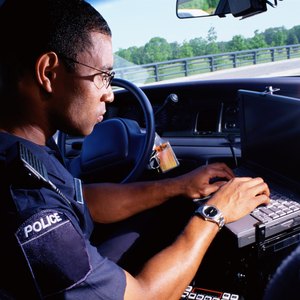 •••
Thinkstock/Stockbyte/Getty Images
If you've been involved in a car accident, obtaining a police report is always a good idea. It can help your insurance company better understand how the accident occurred and who is at fault. However, having a police report is usually not required, unless your accident resulted in injury, death or substantial property damage. In some states, a police report must be filed under these circumstances.
When a Police Report Is Required
If you are in an accident, whether you must file a police report is dependent on both state law and your insurance policy. If filing a report is required by your insurance company, you must do so in order for the claim to be accepted. If your insurance company doesn't have such a requirement, you must still file a report if required to do so by state law. Often this requirement kicks in if your accident meets certain characteristics; for example, when the accident results in injury or death, accident occurred at a particular location, or property damage exceeds a certain amount. For instance, drivers in New York and Massachusetts must file an accident report if there is property damage greater than $1,000. If the accident results in injury or death, both Arizona and New York require an accident report to be filed.
When Police Don't Show
Just because you call the police after an accident doesn't mean they'll show. There are three common reasons for this happening: no one was injured, there is minimal property damage or severe weather conditions exist. In these circumstances, your accident may be low on the priority list. If a police officer does not come to the scene, you can still file an accident report. Depending on the policy of the police department, you may be able to file the report over the phone, online or in person at the local police station. If you're not sure about your options, contact your local police department for more information.
File Your Claim
Even if you haven't filed a police report or received a copy of the one you filed yet, you can still report your accident to your insurance company. Unless a police report is specifically required, insurance companies will typically process a claim without it. The insurance company will collect facts about the accident from you and any other parties involved, inspect and assess vehicle and other damage, and consult accident reports, if any, and witness statements to determine the party at fault and create a repair estimate.
Out-of-Pocket Costs
Once the claim process is complete, your insurance company will either repair your vehicle or issue payment for its actual cash value. Before this happens, your insurance company will require you to pay the policy deductible. If your car is being repaired, you must contribute this amount toward repair costs before the insurance company will pick up the tab for the balance. If you're being issued a check, the amount of the deductible will be subtracted from the payment.
References
Writer Bio
Based on the West Coast, Mary Jane Freeman has been writing professionally since 1994, specializing in the topics of business and law. Freeman's work has appeared in a variety of publications, including LegalZoom, Essence, Reuters and Chicago Sun-Times. Freeman holds a Master of Science in public policy and management and Juris Doctor. Freeman is self-employed and works as a policy analyst and legal consultant.