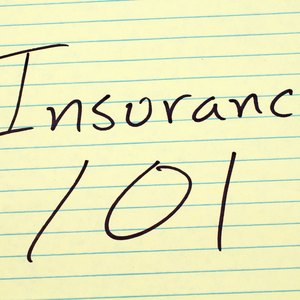 •••
TethysImagingLLC/iStock/GettyImages
Any expensive item you buy needs to be protected. That includes your vehicles, which run the risk of being stolen or damaged, especially if you're driving them around. A policy with an insurance company covers any damage or loss you suffer due to an accident, natural disaster or theft.
What Is Auto Insurance?
Car insurance coverage refers to an agreement you have with an auto insurance company to protect the cars your household owns. Just as homeowners and renters insurance protects your home, and health insurance covers any medical issues, car insurance keeps your vehicles safe. You pay premiums every month in hopes of never having a claim while knowing you'll be protected if you do.
But auto insurance doesn't usually pay the full cost of any loss. You typically have a deductible, which means if you do have a claim, you're responsible for some of the cost, with your insurance company taking care of the rest. A higher deductible usually results in lower premiums, giving you monthly cost savings in exchange for having to pay more if something happens.
Types of Auto Insurance
When you search for a quote on an auto insurance policy, you'll notice there are different types of auto insurance. Your car insurance quote is based on which of these options you choose, so it's important to know how they differ from each other:
​Liability coverage:​ You may opt to go with the minimum insurance coverage required by law, which is liability insurance in most states. Liability insurance helps you pay for another person's property damage and personal injury protection (PIP) if you cause that damage while driving.
​Comprehensive coverage:​ If your car is damaged or lost due to theft or a natural disaster, comprehensive coverage takes care of that.
​Collision coverage:​ This coverage is designed to take care of your own vehicle if you damage it in an accident.
Within these categories of your insurance policy, you can choose to opt-in or opt-out for certain other features, which include:
​Uninsured and underinsured motorist coverage:​ ​In some states, uninsured motorist insurance is not one of the optional coverage options. But in others, you can choose to have it or not. This coverage protects you if you're in an accident with an uninsured motorist.
​Medical payments coverage:​ If you have good medical insurance, you may not find this option is necessary. But medical payments coverage takes care of medical bills not covered by your insurance if they're due to an accident. In some states, you can also get personal injury protection for taking care of medical bills.
​Rental reimbursement coverage:​ If you're in an accident, this coverage pays for the cost of a rental vehicle while yours is being repaired. This may be an option to skip if you want to keep your car insurance rates low by eliminating extras.
​Gap coverage:​ Even the best car insurance companies only reimburse you for your car's market value. The problem is, when you drive a brand-new car off the lot, that vehicle immediately drops in value. Gap insurance reimburses you for that drop in value if your car is a total loss after that depreciation happens.
​Coverage for ancillary costs:​ You can also add on coverage for needs like towing and ridesharing that are required after an accident. Some auto insurance plans even provide roadside assistance.
Why We Need Car Insurance
Even if your driving history is squeaky clean, accidents happen. There's no guarantee your car won't be stolen or you won't total it in an accident tomorrow when you leave home. If you have plenty of money in the bank, you may find that self-insurance is a better option. With self-insurance, you make sure you have the money in the bank to cover whatever happens.
But there are some problems with not having insurance. One is that many states now require every motorist have auto insurance. Another is that no matter how much money you have in the bank, you could get in an accident that leads to serious losses, and those losses could exceed anything you could save.
How to Get Car Insurance
There are multiple approaches you can take if you're in the market for auto insurance. You can search online using sites that let you get quotes from multiple providers with just one application. You can also check rates at popular sites like Esurance, Geico, Allstate and Progressive.
There's also the more traditional approach. Before the internet, drivers shopped insurers locally, working with a broker to set up a policy. The benefit of this is that you have someone else handling everything, but it does make shopping multiple policies a little more difficult.
Cost of Car Insurance
While shopping around can help you find the cheapest car insurance, you're limited by your own credit history.
There are ​two factors​ that go into quoting a rate on auto insurance:
​Underwriting:​ The insurance company looks at the risk that you, the applicant, pose. This includes diving into your driving record to determine the likelihood you'll have a claim. They may even look at your credit score to determine the probability that you'll pay your premiums reliably. In some states, including California and Massachusetts, insurers aren't allowed to base rates on your credit score.
​Rating:​ The rating refers to the price the insurer assigns you. This price is based on what the insurer deems to be the cost of taking responsibility for protecting your vehicle.
High-Risk Car Insurance Coverage
Some drivers have a tougher time getting car insurance quotes because they're deemed high risk. With high-risk policies, the driver has a greater likelihood of a claim than the general population, which typically increases the monthly premiums substantially.
Here are a few reasons you may be considered high risk:
Multiple accidents
Repeat traffic violations
DUI violations
Poor payment history
Age
The type of car you drive
If you have a claim or traffic violation, your car insurance premiums may rise. But it will likely take multiple accidents over a period of time to boost your premiums. If you do see a bump in price due to your recent driving history, that claim cycles off your record after ​three years​.
Pricing Insurance After a Claim
There's more than one insurance company. Even if you've had a claim, you might be able to save money by pricing competitors. When you apply, insurers may ask if you've had a claim within the past couple of years. But don't assume that a competitor won't offer you a cheaper rate than what your current insurer is charging.
Still, an auto insurance company is more likely to give you a competitive rate if you've had no recent claims. Wait a couple of years after your last claim and then check prices again. Some consumers find that shopping around every couple of years helps them save hundreds of dollars on premiums.
Saving Money Through Safe Driving
​As you're gathering auto insurance quotes, you may be able to get discounts based solely on your driving behaviors. This goes beyond simply not having a past claim. Some insurers may promise future discounts if you continue to be claim-free.
If you're careful when you're on the road, though, you might benefit from using a tracker that monitors your driving behavior and reports the data back to the insurance company. The tracker is installed in your car as a separate device or works through an app on your smartphone. If the metrics reveal that you fit the insurer's definition of a "safe driver," your rates may be discounted.
Saving Money on Teen Insurance
Even if you're quoted a low car insurance rate, that rate could change if you ever add a teen driver to your policy. Teens are usually considered high risk due to the rate of accidents during the early years behind the wheel.
But there are ways to reduce your insurance premiums while still having a teen on your policy. One is to look for an insurer that gives a discount for good grades, assuming your student does well in school. Another is to take advantage of discounts for your child being away at college or on an extended trip where they won't be driving for a while.
Saving Money Through Circumstances
There are other ways you can save on auto insurance. If you only drive a few miles to work each day or you work from home, you may qualify for low-mileage discounts. During the application process, many insurers ask how many miles you typically drive. Make sure to update this information as your circumstances change.
You can also reduce your rates simply due to where your car is usually parked. If it's stored in a garage while you're home, for instance, there's a low risk of theft or vandalism. Insurers may also look at reports of vehicular thefts and break-ins in the areas where you live and work.
Who Does Your Policy Cover?
Even if you don't get the cheapest car insurance, you can save money if multiple members of your family share your car. The auto insurance policy you take out covers your car, whether you're driving it or someone else is. This includes someone outside your household, as long as you've given your consent.
There is one important exclusion, though. A standard car insurance policy only covers you while driving your vehicle for personal use. If you get in an accident while driving your car for work, the damage won't be covered. You can typically purchase supplemental insurance to cover your work-related driving if your employer doesn't issue a separate car for that purpose.
Reading an Insurance Policy
When you sign a policy for car insurance coverage, you're signing a legal contract, which means you agree to pay premiums on time each month in exchange for coverage.
Here are the documents you sign initially and agree to each time your policy renews:
​Declarations page:​ This page is the heart of your coverage. It states in writing what your premiums are, what the coverage period is and the exact insurance coverage that's included as part of the agreement.
​Insuring agreement:​ This section of your policy states the people who are covered, as well as any other members of the household who might drive the vehicle.
​Policy conditions:​ In this section, insurers protect themselves by outlining what you need to present if you ever have a claim, as well as what the typical turnaround time is for claims processing. It also outlines what you need to do if you ever want to cancel your policy.
The insurer issues ID cards you can keep in your car to use if you're in an accident. In any state where car insurance is legally required, you may also be asked to present it when you're pulled over for a traffic violation.
Finding the best car insurance at affordable rates has never been easier. You can shop around using the internet and choose the policy with the most benefits for the lowest price. After you have insurance coverage, you can save money by continuing to shop around.
References
Resources
Writer Bio
Stephanie Faris has written about finance for entrepreneurs and marketing firms since 2013. She spent nearly a year as a ghostwriter for a credit card processing service and has ghostwritten about finance for numerous marketing firms and entrepreneurs. Her work has appeared on The Motley Fool, MoneyGeek, Ecommerce Insiders, GoBankingRates, and ThriveBy30.