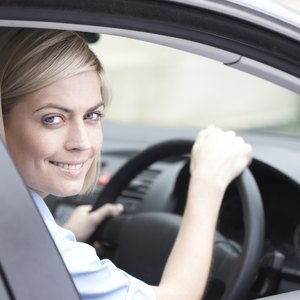 •••
Jupiterimages/Polka Dot/Getty Images
How can you get a free car through charity? If you're looking for a car that will provide a reliable way to get to work, shop for groceries or drive your family around, there are options to help you get on the road in Texas. You may be aware that many organizations actually accept donated cars that allow givers to enjoy tax deductions. What you may not realize is that those donated cars are sometimes given to people who qualify through some type of Texas car assistance program.
If you don't qualify for charity cars, you may still be able to get a set of wheels without visiting a dealership. Here's what you need to know about how to get a donated car.
Start With Goodwill
Yes, Goodwill actually has a program that can help you access local programs that supply free cars, discounted cars or special financing options. Simply contact your regional Goodwill office to see what's available for you. Keep in mind that you may have to meet certain eligibility requirements related to employment status and local median income to qualify.
Inquire With the Central Texas Workforce Center
Texas actually has an answer for how to get a free car from the government. The Central Texas Workforce Center has tons of resources for individuals and families through its Choices program. Once you qualify as a Choices participant, you're able to access transportation assistance benefits that include participation in the state's Wheels to Work program.
Just keep in mind that you'll need to be enrolled in the TANF (Temporary Assistance for Needy Families) program to qualify for Choices benefits. You can learn about the Texas Choices program here.
Contact 1-800-Charity Cars
While you don't necessarily have to be in Texas to access this resource, it's a great place to start if you need a car in the Lone Star State. This organization provides free cars to a wide list of individuals that includes:
Victims of domestic violence.
The medically needy.
Victims of natural disasters.
Families transitioning from public assistance to work.
Families living in transitional living shelters.
The working poor.
Veterans and military families.
When seeking a car through 1-800-Charity Cars, you don't have to be enrolled in any state program to qualify. This is a private organization providing charity cars to people from all walks of life. You can actually apply for an online donation car right here.
Try the Free Used Car Craigslist Option
If you're not having luck with qualifying for the Texas car assistance program, you can sometimes find people who are giving away charity cars online for free. First, start by searching for "free car" on the Craigslist page in your local area. When searching for cars for sale in your area, you can search from "low to high" to see the cheapest cars first. You might want to consider reaching out if you notice that a low-priced car has been sitting untouched for a while.
The owner of the car may be willing to part with it for free if it's not selling. Just be wary of any deal that seems too good to be true. While some people are very generous, it's unlikely that an offer for a new, perfect-condition car that is totally free is legitimate.
If the used car Craigslist option doesn't make you feel comfortable, there are other ways to find free cars in your area. One easy option is to call around to local churches. It's common for churches to keep "donation vehicles" that are given by church members on hand for people in need. What's more, pastors will sometimes ask church members for donated cars once they know that someone in the community has a need.
References
Tips
You may also want to send out a "Wanted" request through your Texas county's Freecycle group. There may just be a member who is ready to upgrade vehicles that may be willing to give you his.
Writer Bio
Adam Luehrs is a writer during the day and a voracious reader at night. He focuses mostly on finance writing and has a passion for real estate, credit card deals, and investing.