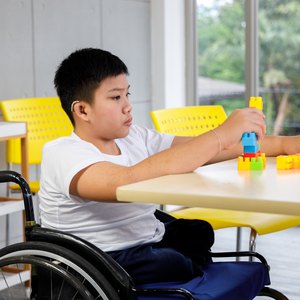 •••
Passakorn Prothien/iStock/GettyImages
If you are the parent of a child who is blind or disabled, you may qualify for Supplemental Security Income (SSI) for that child if you meet the income and resource guidelines for the program.
The Social Security Administration (SSA) requires that a representative payee (typically a parent) set up a separate account for the SSI payments. Any bank of your choosing can help you set up a representative payee account. The SSA will then automatically deposit your child's benefits into that account on or around the first of each month. The SSA has a set of rules you must follow when it comes to how you spend your child's SSI benefits.
Food and Shelter
The SSA expects parents to meet their child's food and shelter needs above all else. This means that a portion of your child's SSI benefits can go towards your housing costs and grocery bills.
One way to come up with a fair figure is to divide your rent or mortgage payment by the number of individuals in the home. For example, if your rent was $800 a month and there were four people living in the home, you would be able to use $200 of your child's SSI benefits toward the housing expenses. You can do the same with the grocery bill, or simply tally up the cost of food that your child with SSI benefits consumes and use that figure to determine how much of their benefits you can put towards food.
Medical and Dental Care
Any incurred medical and dental costs not covered by insurance can be covered by your child's SSI benefits. This includes everything from physical therapy sessions to in-home nursing care. You can use the funds for rehabilitation expenses or to cover insurance premiums.
If your child needs a tooth extraction or a set of braces, the SSI funds can be used to pay for it. Additionally, the benefits can be put toward special medical equipment such as a motorized wheelchair or special needs bath supports.
Modifications Related to the Disability
Depending on your child's disability, you may need to make modifications to your home or automobile. The SSA allows you to use your child's benefits for this purpose as long as their basic needs have been met first. Possibilities for modifications include installing a ramp for wheelchair access or widening the doorways in the home. You might also need to modify vehicles for wheelchairs or transfer seats.
Meeting Personal Needs
In the event that you have funds leftover after taking care of your child's basic needs and medical costs, you can use the money to meet the child's personal care needs. In addition to clothing and accessories, you can buy your child a movie or concert ticket, a magazine subscription or a set of their favorite books. Games for a gaming device, toys that meet sensory needs and therapeutic horseback riding lessons are also acceptable. You can even use the SSI benefits for furniture for your child's bedroom.
Enhancing Your Child's Skills
Many communities offer education and job training skills programs for individuals with disabilities, and your child's SSI funds can be used to cover these expenses. You can also use the benefits to pay for any supplies required for the program such as a backpack, notebook, pencils or calculator.
Keeping Accurate Records
It's always a good idea to keep receipts and accurate records of how you spend your child's SSI benefits. The SSA, however, no longer requires parents to submit a yearly Representative Payee Report if they are the natural, adoptive parent or legal guardian and live in the same home as the child who is receiving the benefits.
References
Writer Bio
Alicia Bodine is a New Jersey-based writer specializing in finance. With more than 13 years of experience, her work has appeared in LendingTree, GoBankingRates, Sapling, Zacks and budgeting.thenest.com.