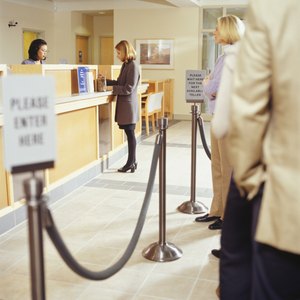 •••
Ryan McVay/Photodisc/Getty Images
Seller-financed purchases usually initiate several questions from inexperienced buyers and sellers. One key question that many ask is whether a seller can sell his property when he has an existing mortgage. Although it is possible to sell a home using seller financing with an existing mortgage, many banking institutions have clauses written into their mortgage paperwork that prohibit homeowners from transferring the deed to another buyer unless certain requirements are met.
Due on Sale Clause
The due-on-sale clause is probably the most important provision to look for when deciding to sell using seller-financing methods. This clause is generally included in the promissory note of a mortgage or deed of trust, and is very widespread throughout the mortgage industry. Simply put, it requires a homeowner to pay off the existing balance of the mortgage upon transferring ownership to another party. Most homeowners with a balance on an underlying loan will have a due-on-sale clause provision.
Title Search
The title company of your choosing can search for any existing mortgages, deeds of trust or liens on the property to ensure that no surprises will arise if you are thinking about buying a home using seller-financing. This will help to ensure that the seller can, in fact, legally sell the property to you. Many sellers may be unaware that the due-on-sale clause may prohibit them from selling their home to another party.
Existing Mortgage Payoff
A buyer who comes in with a large enough down payment to pay off the existing mortgage amount at closing can alleviate the due-on-sale clause altogether. Conclusively, sellers with smaller payoff amounts will have a better chance of finding a buyer with a large enough down payment. Once this amount is paid in full at closing, the seller can then receive the additional balance of the purchase price with monthly payments from the buyer.
Caution
Unless the original mortgage is assumable, most lenders will probably not waive the due-on-sale clause when it's time to sell. Additionally, most buyers who search for owner-financed deals are ineligible for traditional bank financing for some reason or another. You may be tempted to sign a contract with a seller who insists they will make payments to their bank on the original mortgage. But the risks far outweighs the benefits. If for some reason the bank finds out and demands payment in full, you could be left with a huge legal and financial mess.
References
Writer Bio
Meribeth Phipps has been a real estate broker since 2000, specializing in residential new home sales. She holds a bachelor's degree in business and marketing.