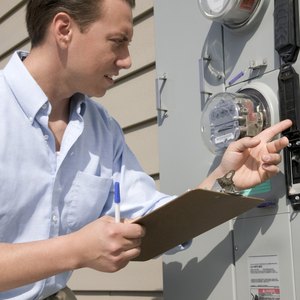 •••
Jupiterimages/liquidlibrary/Getty Images
A real estate transaction can be canceled for several reasons during an inspection contingency period. Most inspection clauses will allow a buyer to inspect a home's structural and cosmetic integrity, and may also allow an investigation of the surrounding areas to ensure suitability. Buyers should never ignore the importance of having a full-fledged home inspection prior to signing on the dotted line.
Time Period
The inspection period of a real estate contract typically lasts seven to 15 days, and starts right after your offer is mutually accepted. This amount of time allows you to hire a professional home inspector to examine the home's structural, mechanical and even cosmetic condition. Buyers must notify the seller of the home within the specified time period of any defective or unacceptable items. You may have the option of cancelling the contract or asking the seller to make repairs.
Reply To Inspections
Like most legal documents, a reply regarding an unsatisfactory inspection must be given to the seller in writing to cancel the real estate contract. This notice needs to comply with contract specifications, including the type of inspection and the deadline required in which to provide notice. If a licensed inspector has found defective items, typically a copy of the inspection report is needed to make the notice valid. This notice may include several items found unacceptable, or simply one.
Option to Repair
Some inspection contingency forms require that the buyer give the seller a chance to repair any defects prior to cancelling the contract. This is important for buyers who may get cold feet and decide to discontinue with the sale -- they may be required to allow the seller to fix all defects found. These types of contracts can give more protection to the seller, and reduce the risk of losing a sale due to wishy-washy purchasers. You may want to ask your real estate agent about the type of inspection form used in your local area.
Neighborhood Disapproval
Several real estate contracts include a section that allows a buyer to inspect the surrounding neighborhood, crime rates, covenants and restrictions, and local amenities. If your contract doesn't have this clause, it may be a good idea to add this contingency. Buyers can conduct research during the inspection period, depending on contract terms. If you are dissatisfied with the surrounding area, such as lack of transportation, public school access, or distance to local shopping centers, a Notice of Termination of Buy and Sell Agreement must be given to the seller in writing within the specified time period for the cancellation to be valid.
References
Writer Bio
Meribeth Phipps has been a real estate broker since 2000, specializing in residential new home sales. She holds a bachelor's degree in business and marketing.