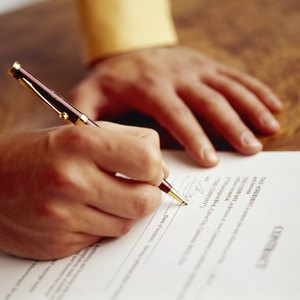 •••
Brand X Pictures/Brand X Pictures/Getty Images
If you want to transfer title to property, the commonest way is by a written deed. Warranty deeds, grant deeds and quitclaim deeds will all do the job. However, you need to know the repercussions of a quitclaim deed.
Unlike the others, one of the major quitclaim deed loopholes is that it does not provide any guarantees that the title the "grantor" or owner conveys is legitimate. So, does a quitclaim deed need to be notarized? Yes, it does.
In fact, all forms of deeds, including quitclaim deeds, must be notarized for the transfer of title to take effect.
Function of Quitclaim Deeds
Quitclaim deeds are often used when the grantor transfers property rights to a "grantee" within her family, so liability isn't as big a concern. The deeds can also be used to transfer property to a living trust, or for a divorcing spouse to give up any claim to a jointly owned house.
Governments selling tax-foreclosed houses will use quitclaim deeds to avoid liability for any title problems.
Features of a Quitclaim Deed
All deeds have several features, including the name of the grantor and grantee, the legal description and address of the property, and the grantor's notarized signature. Some states have added requirements, such as having the grantee sign or having the document witnessed.
Local Notarization Laws
Title transfers must be recorded in the county where the property resides, but usually, the notary public who applies their official seal can be licensed anywhere in the state.
In many places, the deed can even be notarized by a notary public licensed in another state, but some states and counties won't accept this. Every state and county have their own rules concerning who is legally allowed to practice as a notary public.
For example, in New York, a notary public must either be a resident of the state or have a place of business there. If they cease to have a place of business in the state and are no longer residents, they vacate their offices and cannot notarize quitclaim documents or any other kinds of documents. And even residents who move out of state and cease to maintain business premises in NY cannot continue working as notary public.
Types of Notary Public
Anyone with a notary public license can seal a deed, even if they don't call themselves a notary public. For example, bankers, attorneys and real estate agents may have a notary public license, and any of them could apply their seal to notarize a quitclaim deed.
Warning Concerning Notarization
A notary seal doesn't prove that anything in the deed is true or that the grantor has title to the property, it only establishes that the grantor signed the deed in front of the notary. In some cases, it may not even prove that at all. If the notary public violates the law by ignoring the absence of one or more parties during the signing, the notarization will likely be invalidated.
Also, it is better for notarized quitclaim deeds to be recorded at the register of deeds in your county so it becomes binding to all parties. However, it may still be valid without a recording. But you may suffer legal difficulties trying to safeguard your interests.
References
Writer Bio
A Durham, NC resident, Fraser has written about law, starting a business, balancing your budget and fighting evictions, among other legal and financial topics.