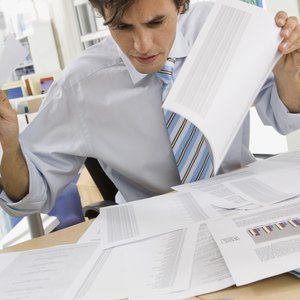 •••
Pixland/Pixland/Getty Images
Federal student loans taken out directly by college students do not require a co-signer. However, private student loans generally require a co-signer, especially if the student has limited credit history. In most cases, you cannot change, swap or transfer co-signer names. However, if certain requirements are met, you can remove a co-signer.
Private Loans
Some private student loan lenders will allow you to remove a co-signer through what is known as a "co-signer release." The release is possible because once you demonstrate the ability to make timely payments, which can take anywhere from 12 to 24 months, the lender may consider removing the co-signer. In addition to proving you are capable of repaying the debt, you may need to meet certain credit criteria. After the original co-signer is released, you can ask to add another co-signer. However, if you are capable of qualifying on your own, there is no need for another co-signer to assume financial responsibility.
References
Resources
Writer Bio
Jeannine Mancini, a Florida native, has been writing business and personal finance articles since 2003. Her articles have been published in the Florida Today and Orlando Sentinel. She earned a Bachelor of Science in Interdisciplinary Studies from the University of Central Florida.