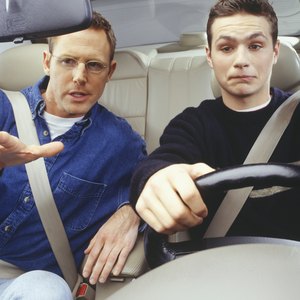 •••
Ryan McVay/Photodisc/Getty Images
When you get your learner's permit, you have options for insurance, including becoming insured under a parent's policy or another person's policy. In some states, teenagers are automatically added to a parent's policy. Other states require parents to amend the policy if they want their children added. Young drivers with a permit might also acquire temporary car insurance if they live independently, but this depends on the regulations in your state and insurance policies.
Extended Coverage
If you received your learner's permit, insurance companies usually allow your parents or legal guardian to extend the policy's coverage to you with no extra premium until you get your license. In some cases, you might be automatically added to a family policy when you get your permit. Your parents need to check with the insurance company to see how you can benefit from their policy.
Your Responsibility
When you become insured through a policy of a parent or guardian, your driving affects the policy. If you cause an accident or damage, the insurance premiums might go up, not to mention cause a bad mark on your driving record. Your parents need to look at their liability coverage to make sure they have proper coverage with the added risk. Meanwhile, you need to take on your new responsibility as a beginning driver, using your learner's permit carefully on the road to improve your driving abilities and keep a clean record for your own insurance purposes.
Away from Home
You might live away from home when you get your learner's permit. For example, you might be starting college when you receive a permit, as you wait to take the driver's test that awards you an official license. You can get insured through the policy of a spouse or roommate, but that depends on the policy and the state law. The insured person adds you to the policy, and a licensed driver must be in the car with you when you drive, according to the rules set up in the policy. You and the other person need to check with an agent or insurance company to see how you can be covered under the policy. In some cases, you are automatically added if you live in the same house.
Living Independently
If you are on your own when you get your permit, you might qualify for temporary insurance, but it is difficult and expensive. You have to check with different insurance companies to find one that offers the service at the cost you can afford. Often, while living on your own, it's usually only a matter of a few months or less before you get your license. It's much easier to acquire a permit while living in the household of another policyholder, who can add you to his policy with an insurance rider to insure you temporarily. It also lowers your costs and relieves stress the earlier you receive a permit before heading out on your own.
References
Writer Bio
Jerry Shaw writes for Spice Marketing and LinkBlaze Marketing. His articles have appeared in Gannett and American Media Inc. publications. He is the author of "The Complete Guide to Trust and Estate Management" from Atlantic Publishing.