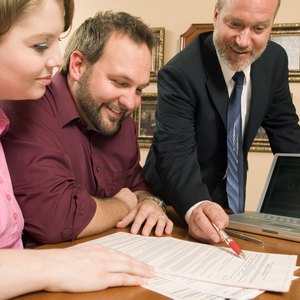 •••
Jupiterimages/liquidlibrary/Getty Images
Married couples often share the expense and work involved in owning and maintaining a home, and as such, usually share an interest in the property. If you purchased a home without your spouse before or after you married and she currently has no ownership interest in the home as a result, you can still add her to the title deed. Federal Housing Administration loan borrowers can add a non-borrowing spouse to title several ways.
Non-Borrowing Spouses
The FHA's flexible qualifying guidelines often enable borrowers to gain financing using only one applicant's credit, income and assets. The FHA insures participating lenders against losses in a default, making lenders more willing to finance a borrower despite modest means. You might also get an FHA loan without your spouse due to her poor credit, which can hurt loan terms and increase costs. To add your non-borrowing wife to title, you need to grant her ownership rights via a grant deed. The FHA and the lender allow this, unless your wife carries a legal or financial liability that could hurt title and jeopardize the loan. Her tax liens, judgments or other serious financial deficiencies could cloud the title and hurt its future marketability.
At Closing
In certain states, you can add your wife to title at closing, even if she isn't on the FHA loan. In community property states such as California and Texas, you automatically share half the debt your spouse acquires during marriage, as well as half of the marital assets. As such, the non-borrowing wife may sign the deed of trust or mortgage security instrument, even if she doesn't sign for the loan. The lender may run a credit check on the wife, add her debts to the husband's qualifying ratios and ensure that she isn't on any of the federal government's blacklists for participation in its programs, though.
After Closing
You may add your wife to title after closing on the home, but you as the borrower remain responsible for the FHA loan. Granting your wife ownership rights to the property has its advantages, such as preventing probate upon your death or giving her rights to the home in a non community-property state that she would otherwise not have. Adding her to title also gives her permission to sell or mortgage the home, with your permission. You may need to consult with an attorney to determine how any of your wife's negative credit or financial circumstances, which don't belong to you, can affect your FHA loan and property title when you add her.
Streamline Refinances
The FHA offers a streamline refinance loan that can be completed through an expedited process that doesn't require an appraisal or credit review. The streamline refinance pays off an existing FHA loan with a new loan that has a better payment and terms. You can add your wife to your FHA loan and title by way of the refinance, without the lender checking her credit, because you are not taking any money out of the transaction and your payments don't increase as a result.
References
Writer Bio
Karina C. Hernandez is a real estate agent in San Diego. She has covered housing and personal finance topics for multiple internet channels over the past 10 years. Karina has a B.A. in English from UCLA and has written for eHow, sfGate, the nest, Quicken, TurboTax, RE/Max, Zacks and Opposing Views.