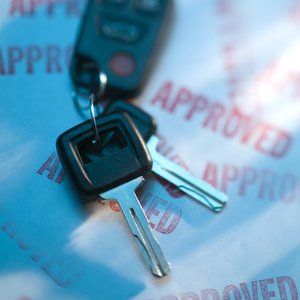 •••
Comstock Images/Stockbyte/Getty Images
If you have problems with your credit, you can always use a co-borrower for help in financing or refinancing a car. Most lenders allow this and will accept the higher of the two credit scores. But beware, the other borrower is on the hook for the payments if you don't pay, and her credit gets dinged if you pay late or if the car is repossessed.
The Benefits of Co-Borrowing
If you enlist a co-borrower -- also called co-signer -- on your auto loan, it gives your lender an extra guarantee that the loan will be paid back. This can result in a lower interest rate, especially if your co-borrower -- usually a good friend or family member -- has a good to excellent credit score. Typically, the lender qualifies you based on the co-borrower's higher credit score or financial assets. There is no reason to use a co-borrower if her financial situation is worse than yours.
The Risks of Co-Borrowing
Your co-borrower must understand her responsibility as a co-borrower. In essence, she's taking on the exact same loan obligations as you. If you don't pay, the bank will seek payment from your co-borrower. Also, if you don't make the payment on time or default on the loan, your co-borrower will bear the brunt of the damage on her credit rating. The loan can also affect the co-borrower's ability to get other loans.
By Request
Auto lenders or refinancers may ask you to add a co-borrower to qualify you for a loan you can't get approval for on your own, but they can't require or force you to use a certain person, like your spouse or parent. Of course, if you don't add a co-borrower, the lender can refuse you the loan.
Co-Borrowing for Someone Else
If someone asks you to be a co-borrower on his loan, carefully consider your obligations and the risks in the event the borrower doesn't pay back the loan as agreed. You assume all the financial risk of an auto loan and get no benefits, unless you're also on the title of the car and have driving privileges. Before you take this step, the person you vouch for must have the means and the trustworthiness to follow through on his obligation. If you're not sure about this, you can save yourself a lot of future problems by just saying no.
References
Writer Bio
Chris Brantley began writing professionally for a financial analysis firm in 1997. From 2000 to 2004, he worked as a financial advisor, specializing in retirement planning and earned his Series 7, Series 66 and insurance licenses. Brantley started his full-time writing career in 2012 and has written for a variety of financial websites, including insurance, real estate, loan and investment sites. He holds a Bachelor of Arts in English from the University of Georgia.