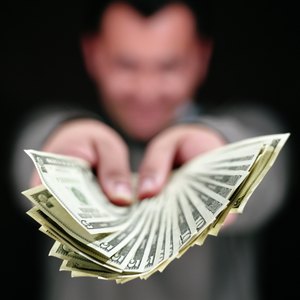 •••
Ryan McVay/Photodisc/Getty Images
According to The New York Times, only a few states keep statistical records of how many consumers take out title loans each year. California has seen enough of them, however, that it introduced legislation in 2011 to try to exert some control over the industry. The California Finance Lenders Law allows companies to give short-term loans secured by titles to motor vehicles, but the lenders must be licensed.
Title Loan Interest Rates
Title loans typically are subject to very high interest rates, and California law doesn't do much to limit how much the state's lenders can charge. Interest on consumer loans under $2,500 can't exceed 30 percent a year, but there's no limit on loans over $2,500. The vast majority of title fall into the latter category, because lenders don't want to offer loans where interest can be capped. Lenders can't compound interest on loans under $5,000.
Administrative and Processing Fees
The cost of a title loan isn't limited to interest. Lenders can charge administrative or processing fees in California as well. The law allows title loan lenders to charge up to 5 percent of the amount borrowed or $50, whichever is less, unless the loan is for more than $2,500. In this case, the ceiling jumps to $75 for loans of up to $4,999. There's no cap for loans of $5,000 or more. If you're late with a payment, licensed lenders can charge you an extra $10 during the first 10 days and $15 after that for each delinquency.
Other Title Loan Rules
California lenders are legally required to let you know what kind of extra fees and interest you're agreeing to before you sign a title loan contract. They must prominently display their charges, although this can be accomplished by including them in the contract. If a lender offers any loans under $10,000, it's restricted as to other types of business it can conduct on its premises. Title loan lenders can't accept real estate as collateral, only motor vehicles.
The Risk of Repossession
The most significant risk of a title loan is that if you can't pay back what you owe, including interest and other fees, you can lose your vehicle. Lenders have a legal right to repossess in California. Even if they don't immediately take your car, some will stop you from starting and driving it with GPS tracking devices. Before you commit to such a loan, consider reaching out to California's Department of Business Oversight to check on the lender's license and any complaints that may have been filed against it.
References
Writer Bio
Beverly Bird has been writing professionally for over 30 years. She is also a paralegal, specializing in areas of personal finance, bankruptcy and estate law. She writes as the tax expert for The Balance.