California Auto Insurance Limits
by Contributing Writer ; Updated July 27, 2017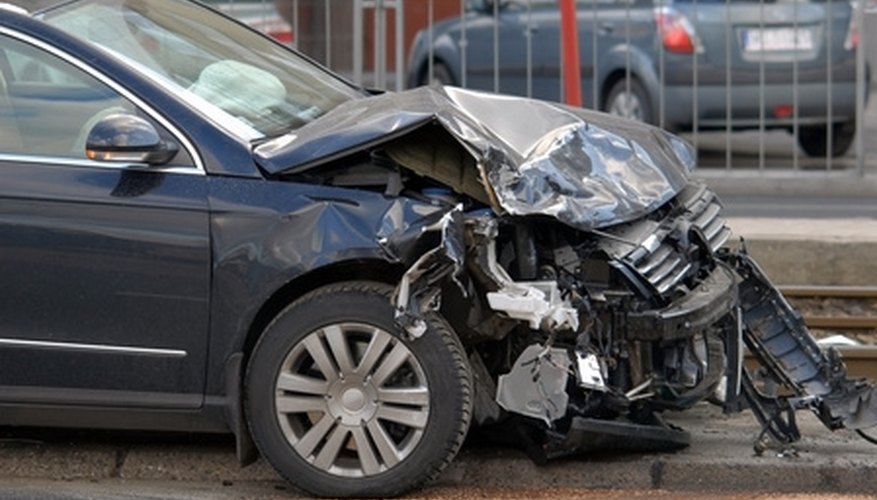 California has minimum auto insurance liability limits that drivers must comply with to legally operate or register a vehicle in the state. It is therefore important to have a thorough understanding of your insurance policy's limits to ensure you are complying with the law and buying adequate coverage for your needs. If you fail to comply with California's minimum requirements, your driver's license may be suspended, your vehicle may be impounded and if you are involved in an accident, you also may have to pay for the damage yourself.
Definition
Auto insurance liability limits are how much money an insurance company will pay after an accident or other financial loss, based on the amount of liability coverage you buy. California's liability limits include three parts: a per-person injury limit, a per-accident limit and a property damage limit. Per-person and per-accident limits are collectively known as bodily injury liability limits.
Bodily Injury
The minimum bodily injury liability insurance limits in California per accident are $15,000 of coverage for death or injury to one person and $30,000 of coverage for death or injury to more than one person. Bodily injury insurance covers the cost of injuries and can include medical bills, doctor fees, hospital expenses and other related costs such as lost income and rehabilitation.
Property Damage
The minimum property damage liability insurance limit in California is $5,000 for damage to property for any one accident. Property damage insurance covers damage caused to other people's property, such as their car or property in that car, structures such as homes or business storefronts, or stationary objects such as a fence or mailbox.
Choosing Limits
Choosing the appropriate liability limits to buy in addition to California's minimum requirements depends on the amount of financial loss you would be able to afford if you caused an accident. The lower the limit, the greater the financial risk to you. For example, a limit of $15,000 means your insurance company would only pay up to $15,000 and that you could have to pay any additional amount yourself.
Meeting Requirements
Vehicle owners in California must provide at least the required minimum limits of liability insurance for their vehicles. In lieu of auto insurance, there are three alternatives for complying with this financial responsibility requirement: a cash deposit of $35,000 with the California Department of Motor Vehicles; a DMV self-insurance certificate, which is issued to owners of fleets of 25 or more vehicles; or a surety bond for $35,000, which can be obtained from an insurance company licensed to do business in California.
Photo Credits
Crash on the street. German auto model 2007. image by Dariusz Kopestynski from Fotolia.com