How to Calculate Taxable Income for Georgia State Income Tax
by Linda Richard ; Updated April 19, 2017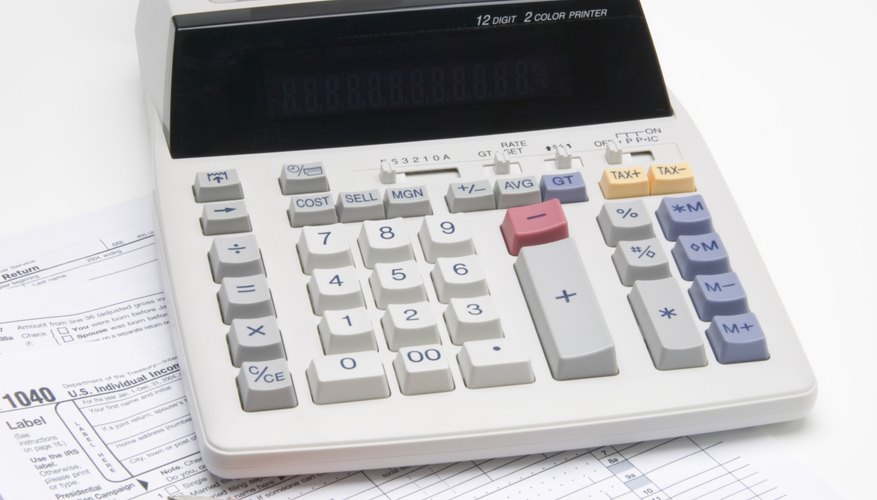 Georgia bases state income taxes on the federal adjusted gross income from federal income tax forms. If you are a Georgia resident, you must complete the federal income tax Form 1040, Form 1040A or Form 1040EZ to get the figures you need to complete the Georgia state income tax forms. Georgia had a personal exemption of $2,700 and $3,000 for each dependent as of 2010. A standard deduction is $2,300 for single taxpayers and heads of households, $3,000 for couples or $1,500 for married persons filing separately. Seniors over age 65 or those who are blind can receive a $1,300 additional deduction if they do not itemize deductions.
Step 1
Locate your federal income tax adjusted gross income as reported on Line 37 of Form 1040, Line 4 of Form 1040EZ or Line 21 of Form 1040A. Use this figure for the starting base for calculating Georgia state income taxes.
Step 2
Subtract the personal exemption for yourself at $2,700 and for each dependent at $3,000. Subtract the standard deduction of $2,300 if you are single, $3,000 if you are married filing jointly, or $1,500 if you are married filing separately. If you are a senior over age 65 or blind, subtract an additional $1,300 if you do not itemize deductions.
Step 3
Calculate the retirement income exclusion if you are 62 or over, disabled or blind, and have retirement income that qualifies for exclusion. You can exclude $35,000 of your retirement income for the year in 2011 and $65,000 in 2012. Consider other adjustments you may use by reviewing the list provided in the Georgia Department of Revenue IT500 general instructions, page 10. Subtract or add these adjustments to arrive at your total taxable income for Georgia state tax. You can calculate the actual tax owed by multiplying the taxable amount by the percentage from the tax bracket tables.
Step 4
Determine the percentage of tax you owe the state based on the tax bracket tables, if you are filing as a single taxpayer. Up to $750 is 1 percent. Georgia residents owe 2 percent on $750 to $2,250 and 3 percent between $2,250 and $3,750. The tax is 4 percent between $3,750 and $5,250 and 5 percent between $5,250 and $7,000. The highest bracket is 6 percent for individuals whose adjusted gross income less personal exemptions for self and dependents and less the standard deduction is over $7,000. Each amount adds the total tax for the lower amount. For example, if you are in the 3 percent bracket, you pay $37.50 for the tax up to $2,250 plus 3 percent on taxable income above $2,250.
Step 5
Apply a different table if you are married filing jointly. The 1 percent tax rate applies up to $1,000. Up to $3,000 is $10 plus 2 percent of the amount between $1,000 and $3,000; between $3,000 and $5,000 is $50 plus 3 percent of the amount over $3,000. The 4 percent rate applies to $5,000 to $7,000, with $110 added. The 5 percent rate starts with $190 and applies to amounts between $7,000 and $10,000. The 6 percent rate applies to amounts over $10,000, with the addition of $340 for the calculation up to the $10,000 amount.
Tips
If you are new to Georgia and have income from another state, file your tax return with that state for income earned there. File Schedule 2 and include a copy of the other state's return with your Georgia tax return to receive credit.
Warnings
Review the Georgia instructions carefully, as some federal adjustments may not be accepted by Georgia. You may need to adjust your federal adjusted gross income with explanation to the Georgia Department of Revenue.
Photo Credits
Creatas/Creatas/Getty Images