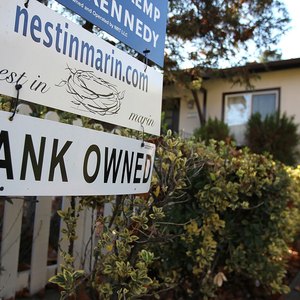 •••
Justin Sullivan/Getty Images News/Getty Images
For some individuals, choosing to purchase a home that has been subject to foreclosure can be a budget-friendly, cost-effective option. Although the foreclosure process comes with its own fair share of regulatory requirements and policies, individuals who are interested in searching available foreclosure properties can do so relatively easily.
Given the fact that banks are typically the provider of home mortgages, it is these organizations who are often responsible for initiating the foreclosure process. With that in mind, individuals who are ready to purchase a foreclosure property will do so through the bank in question.
The Wells Fargo foreclosure process is relatively straightforward, meaning that you can quickly begin searching available properties and completing the necessary paperwork to ensure that you have the funds available to make your purchase.
In order to buy a foreclosed property owned by Wells Fargo, you will need to first ensure that the property you want is owned by Wells Fargo and then complete the necessary checks to ensure that your financial situation meets the bank's standards for financing.
Exploring the Basics of Foreclosure
If you are in the process of exploring homes available for purchase, you may have come across the acronym REO. This specific term stands for "Real Estate Owned,"which means that the property in question was previously under the ownership of an individual but is now under the control of the original mortgage provider. As an example, you could see a Chase REO, Bank of America REO and many others. It is these properties that are typically eligible for purchase under the rules and policies governing foreclosed assets.
Keep in mind that the term REO is not the only piece of information you will need to begin the process of purchasing a foreclosed home. If the property in question has been returned to the original mortgage holder, this means that one of many different banking institutions could now be the owner. Fortunately, you will likely be able to determine which bank owns the property using a simple internet search. You can also search directly through a list of foreclosed properties owned by an individual bank, typically through the use of their standard web portal.
Using the Wells Fargo Foreclosure Portal
The Wells Fargo website contains a powerful search tool that allows interested home buyers to search through all available foreclosure properties. As part of the search process, individuals can filter their query using a variety of parameters, including zip code, price, home size and current market status. This particular resource can be immensely helpful by allowing home buyers to rapidly narrow their investigation to properties that are a definitive match with their budget and lifestyle.
If a home appears in the search results that seems to be a good match, individuals can submit their contact information as an attachment to the listing, which is then routed directly to the appropriate real estate agent. Once this is complete, a showing can be arranged and the process of purchasing the home can continue.
Purchasing Using the Wells Fargo Foreclosure Process
Once you have found the perfect home that matches your needs, you will need to ensure that you have received the appropriate pre-qualification from Wells Fargo or some other lender. You can use a simple, streamlined online application form to provide Wells Fargo with all of your relevant financial information. This, in turn, will allow them to determine exactly how much money you can borrow for your home purchase. A credit check will also be used to assess your current financial health and identify any default risks you may pose.
In the event that you pass all of Wells Fargo's loan approval checks, you should be able to secure the financing you need to purchase the foreclosed property. If, for some reason, your financial circumstances render you ineligible for financing, you can consult directly with a member of the Wells Fargo team to explore alternative financing solutions.
References
Tips
Make a visit to your county's tax department to find out the history of the property including what previous owners paid for the home.
Consider hiring an appraiser to evaluate the home to establish a fair market price. Your appraiser's price and the bank's appraiser should be similar. If not, adjust your bid accordingly.
Warnings
In some states you may be allowed to close on a home without attorney representation. Hire an attorney regardless, to make sure that the real estate agreement protects your interests.
Writer Bio
Ryan Cockerham is a nationally recognized author specializing in all things innovation, business and creativity. His work has served the business, nonprofit and political community. Ryan's work has been featured at Zacks Investment Research, SFGate Home Guides, Bloomberg, HuffPost and more.