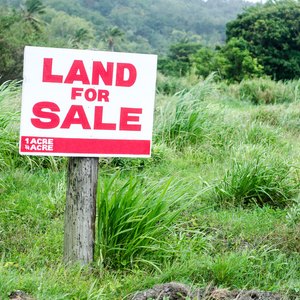 •••
jaminwell/iStock/GettyImages
There is a reason land is called real property. Unlike other investments of value, land possesses permanence, has myriad uses, appreciates in value more often than not and is recognized by the government in location and boundaries. Land can be profitable financially, culturally, socially and personally. Its topography, soils, spatial position and sub-surface deposits can add to its overall worth.
Needless to say, there are good reasons for buying land in Ohio. Yet it is not as simple as scoping out available terrain and placing a bid. Research how local market conditions will affect the transaction.
Finding Land for Sale in Ohio
Interested parties can try the DIY approach, going online and looking for land for sale in Ohio by owner. While this option seems pain-free and uncomplicated, there are in fact advantages to employing a land consultant, i.e. a real estate agent who specializes in raw or vacant land. Farmland, woodlands or unimproved land for development each have unique advantages and pitfalls.
A seasoned and knowledgeable land consultant is not only helpful in locating the ideal property but can also navigate a buyer through negotiations, contracts and financing. The Realtors Land Institute can assist land shoppers in finding such a professional.
A careful title search of raw or vacant land should be meticulously performed.
Know Your Purpose in Buying Land
True, many people simply buy land to hold, hoping appreciation and a future buyer will turn it into a small fortune. While that plan has worked often, it is not an option for those who wish to make use of the property. Land use is a frequently frustrating area of the law, keeping zoning lawyers and local planning boards busy on a year-round basis. Having the specifics of the commercial, residential, recreational or non-profit use of the land and improvements is the best way to find unofficial favor with local officials.
While many municipalities will not consider variances until the property is conveyed, they can at least tell you if they forecast major stumbling blocks for the application. A competent land use attorney is also a beneficial member of your team.
Get an Appraisal for Land for Sale in Ohio
Dreams and visions for your little acre(s) can sometimes cloud the perception of a parcel's real value. Of course, you do not want to underestimate value either. To be sure, according to the National Association of Realtors, the median price of an acre of land jumped $1,000 between 2018 and 2019. Any particular property could be worth a range of sales prices.
An appraiser well-acquainted with raw land will look at soil quality and drainage, proximity to businesses and conveniences, ease of access and the "highest and best use" for the undeveloped land, among other variables, before rendering a value assessment. In addition, the appraiser can give a valuation based on a range of intended uses: residential, agricultural, recreational or timber, for example.
Ohio Mineral Rights Legislation
A careful title search of raw or vacant land should be meticulously performed. Why? A 1989 statute, the Dormant Mineral Act, updated in 2006, dictates that any rights to minerals, oil, natural gas and precious metals under the surface belong to the property owner, i.e. the purchaser, unless some recorded claim was filed by a prior owner within the 20 years preceding a sale.
So, land for sale in Ohio with mineral rights transferring to the buyer must have no assertion of those rights by another for two decades in the past. If the title search uncovers such a claim, it can affect the final sale of the land.
References
Writer Bio
Adam Luehrs is a writer during the day and a voracious reader at night. He focuses mostly on finance writing and has a passion for real estate, credit card deals, and investing.