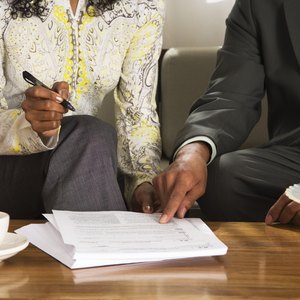 •••
Creatas Images/Creatas/Getty Images
Competition can be fierce in a seller's market, when homebuyers are far more numerous than houses on the market. In especially attractive locations, investors swoop in, waving cash, and directly compete against homebuyers who want only to achieve the American Dream of buying a home to live in. Thankfully, the HomeSteps program understands this dilemma. One of its regulations is known as the FirstLook initiative. This policy excludes the sale of Freddie Mac homes to investors during the first two weeks the home is on the market – 30 days if you live in Nevada.
How to Review the First Look Program
The relevant website is homesteps.com. To find homes in the Freddie Mac first look initiative, fill out your preferred location on the page and click the "Find Homes" button. First Look homes are clearly marked with a First Look icon. View the search results by clicking on a home that interests you. This will bring up a Property Details page that includes the number of bedrooms, bathrooms, square footage and more. Pay close attention to the box that says "1st Look Time Remaining." This is the amount of time that the sale of the home is restricted to non-investors.
Call the Real Estate Agent
Contact your real estate agent and ask for an appointment to view the home. She will call the listing agent to set the appointment. If you are not working with an agent, and don't plan on hiring one, the listing agent is named just below the Agent Details heading. Click on "Contact Agent" to email the listing agent.
Submit an Offer
Your agent will assist you with the paperwork if you wish to submit an offer. This should include a purchase agreement, your mortgage pre-approval letter or proof of funds if you'll be paying cash, a certified check for the earnest money deposit, sales contract and the HomeSteps contract addenda. Don't be afraid to ask questions about anything you don't understand and ask them before you sign.
Steps if You're Counter Offered
Wait to hear the results of your offer, which should arrive within four to five days. Your offer will be accepted, rejected or countered. A counteroffer on a HomePath house typically has to do with price or with requests for cash back at closing, although Freddie Mac typically pays 3 percent of the buyer's closing costs. Your real estate agent or attorney will advise you on how best to proceed should your offer be countered.
Dealing With Escrow Conditions
Look over the escrow instructions, which the escrow company will issue shortly after escrow is opened. Ensure that everything in the summary is accurate, including the purchase price, credits and the date escrow closes. If you notice any discrepancies, contact your agent or attorney immediately. During this time, you'll need to schedule home inspections. Depending on where you live, common inspections may include wood-destroying pests, radon gas, lead-based paint, septic, well and foundation. Most homebuyers routinely order a whole house inspection in addition to the others This is even more important when buying a foreclosure since you can't ask the seller what might be wrong with the home.
Keep an Eye on the Loan Status
Follow up with your loan officer at least once a week to check on the status of your loan. Once the loan is approved, the lender sends the loan documents to the escrow company. The escrow officer will work up a list of closing costs which you will be asked to sign as well as the loan documents, at closing. Escrow packages up all the documents and sends them to the loan underwriter, typically via overnight mail or courier. It will take from 48 to 72 hours for underwriter verification and loan funding.
Wait until the transaction is recorded to take possession of the home. Your agent or attorney will let you know when that has occurred and then you can take possession of your new home.
References
Writer Bio
Based in the American Southwest, Bridget Kelly has been writing about gardening and real estate since 2005. Her articles have appeared at Trulia.com, SFGate.com, GardenGuides.com, RE/MAX.com, MarketLeader.com, RealEstate.com, USAToday.com and in "Chicago Agent" magazine, to name a few. She holds a Bachelor of Arts in English with a concentration in creative writing.