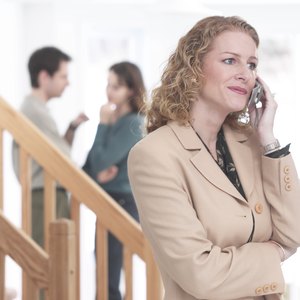 •••
Hemera Technologies/AbleStock.com/Getty Images
A broker's obligations are often called into question when multiple offers are made on a property. The Code of Ethics and Standards of Practice set forth by the National Association of Realtors outline a broker's responsibilities in such cases. Understanding these ethical expectations as well as the broker-client and broker-customer relationship can help ensure buyers that they are being treated fairly.
Protecting the Seller
When representing a property, a broker's fiduciary responsibility is to the seller. According to The Code of Ethics and Standards of Practice, brokers should present all offers and counter-offers as quickly and objectively as possible. No matter how low an offer or how late, the seller should be made aware of all expressed interest up until the closing takes place.
Responsibility to the Buyer
The code also states that a listing broker must treat all parties honestly. Though brokers are not required to inform bidders of multiple offers, if the bidder asks and the seller gives his approval, the broker must be forthright with the information. In such cases, if asked, a listing broker must also disclose whether additional offers were obtained by the listing broker, by another licensee in the listing firm, or by a cooperating broker.
Why Wouldn't a Broker Present an Offer?
Temptation to keep quiet about another buyer's offer can arise when the subsequent offer is coming from a buyer represented by an outside broker. An in-house offer results in double the commission for the listing brokerage, while co-broking with an outside agent means the commission must be split between the two brokerage houses. Failure to present an offer is a serious ethics violation. If a prospective buyer suspects his offer has not been presented, his agent can request a written statement from the seller acknowledging that the offer was received.
Making an Offer Stand Out
Sometimes when there are multiple bids on a property, a listing broker will ask all bidders for their best and final offer. In such situations, there are ways to make an offer more appealing. Along with the buyer offering the highest price he is comfortable paying, brokers suggest things like increasing the down payment, including a pre-appoval letter and financial statement, or writing a personal letter to the seller detailing the buyer's interest in the house. When possible, offering all cash is enticing to sellers because it means the deal will not be contingent on the buyer getting a mortgage. Quite often, the buyer considers more than just price when accepting an offer.
References
Resources
Writer Bio
Kelly Miner Tunstall began writing professionally in 2005 upon receiving her BA in journalism from Ithaca College. She spent seven years working in New York City where she assisted in representing the sale of residential condos and co-ops. She also worked for and has been published in "The Cooperator."