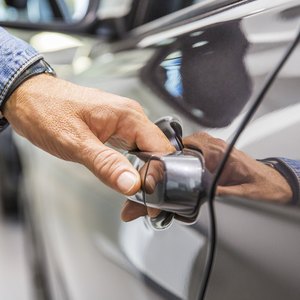 •••
Dimitri Otis/DigitalVision/GettyImages
Whether you need an auto loan for a new or used car, you can run into difficulties getting approved at a local bank or credit union when you've got a bad credit score – usually one that falls ​below 600 or 580​. While you can expect a credit check for many auto loans, you can find lenders that offer bad credit auto loans as long as you're willing to pay a higher interest rate, prove a certain amount of income and possibly put down more money on your vehicle. Going with such lenders could help you avoid needing a co-signer, and you can even rebuild your credit as you make timely payments. Check out these five bad credit auto lenders to consider for your vehicle purchase.
1. Auto Credit Express
With an A+ rating from the Better Business Bureau and over ​1.6 million​ loans requested so far in 2020 alone, Auto Credit Express is known for its large national dealership network and flexibility for a variety of credit situations. Rather than directly offering bad credit auto loans, Auto Credit Express has you complete a short pre-approval form to find a compatible lender that will offer the loan. The site mentions that it can help you get an auto loan for a used car even if you've got a credit score​ below 500​ or have filed bankruptcy.
To qualify for a subprime loan through this service, you'll have to meet the specific chosen lender's requirements. Auto Credit Express recommends showing a ​three-year​ steady income history, making ​$1,500 to $2,000​ monthly, having a ​10 percent​ down payment and giving several references. Loan terms will vary by matched lender and range between ​3.99 and 29.99 percent​ in interest based on your credit score.
You can get pre-approved quickly and see several lender options. However, you'll need to keep in mind that each lender will have its own minimum and maximum loan amounts, and you'll only be able to buy from an approved dealer
2. RoadLoans
Known for giving instant pre-approval decisions and considering people with any sort of credit score or prior bankruptcy, RoadLoans seeks to take the hassle out of bad credit auto loans. It doesn't offer loans directly but has a large network of ​14,000​ dealers that it connects you to and will present several options and loan terms for which you'd qualify. You don't have to pay anything to get pre-approved to obtain an auto loan, and RoadLoans offers its services in all states except Nevada, Alaska, Mississippi, New Hampshire and Hawaii.
While ranges can vary by state, you can usually get a bad credit car loan of ​$5,000 to $75,000​ based on your financial profile, though the dealers will set term lengths. You'll need to show you make at least ​$1,800​ per month, and the interest rate can range from ​1.99 to 25 percent​.
This service is known for its good customer service as you get help both during the financing and buying steps. However, reviews do show that many customers with bad credit report interest rates on the high end of the range.
3. Capital One
Known as a major national bank with a positive reputation and an A rating from the Better Business Bureau, Capital One has an auto financing department that is willing to work with people who have good or bad credit as long as they show a sufficient and steady income. The bank offers an online pre-approval tool that can let you know quickly how much of a loan you could get. There's not a set credit score qualify, but the lender does suggest fixing any errors on your report, putting as much down as possible and considering a co-signer if necessary. You'll also need to make at least ​$1,500 monthly​.
If approved, you could get a minimum loan of ​$4,000​, a loan term between ​two and six years​ and an interest rate as low as ​2.99 percent​. However, your credit score and income will determine the specifics for your application. You can use the Capital One Auto Navigator tool to find a local dealership that works with the bank and shop for your car from home. This can save you time and simplify the car buying process whether you want something new or used.
Keep in mind that mileage and age restrictions for used cars can apply with a Capital One auto loan. Also, since this is a traditional lender, you may face more issues getting approved with a subprime credit score, especially if you've recently filed for bankruptcy or don't have much money to put down.
4. Car.Loan.com
As a service that can help people with bad credit or no credit at all find a car dealer that will get them financing, Car.Loan.com has been around since ​1994​ and focuses on quick approval so you can go purchase a car locally. They accept people with any type of credit issue and don't place mileage restrictions on used cars like many other alternatives do. Some borrowers may find dealers through the site that won't do a credit check at all, though this can lead to a very high interest rate, substantial down payment and limited car inventory to choose from. You can find a loan estimator tool on their homepage to give you an idea of your affordability.
Bad credit car loan options through this service can come with interest rates anywhere from ​0 to 25 percent​, with the higher end being for those with poor or no credit. Loan amounts range from ​$7,500 to $45,000​, and terms can go ​up to 72 months​. The website doesn't mention an income requirement, but you can still expect to have to show you can afford the monthly payment.
Borrowers will need to keep in mind that while this provider has more lenient options for getting approved with bad credit, you can pay a hefty interest rate for the benefit. You will also face limitations for mileage when you're buying a used vehicle, and these vary by loan term.
5. Carvana
With its A+ Better Business Bureau rating, high customer satisfaction and unique used car buying experience, Carvana has its own in-house financing program with no minimum credit score requirement and no trip to a dealership either. When you complete the preapproval that takes just a few minutes, you'll see your car loan terms along with a maximum amount for which you can use to pick a used car on the Carvana website. You can set a down payment or trade in your old car, and Carvana will both deliver the vehicle to you at your home and take your old one if you're trading in. You even get ​seven days​ to test drive the car you're financing.
The auto loan requirements include that you don't have an active bankruptcy and that you have a minimum annual income of ​$4,000​ annually. If you have bad credit and/or a low income, you can expect Carvana to request a substantial down payment or trade in a vehicle with significant value to qualify. Loan terms range from ​three to six years​ with interest rates between ​3.9 and 27.9 percent​ based on creditworthiness.
While the site offers quality vehicles that have been certified, the main limitation is you have to use your car loan for a vehicle in the Carvana inventory. This means that you can only get a used car and that you may need to keep checking the site until you see a vehicle that interests you and fits your budget. Used vehicle prices may also be slightly higher than at a local lot, so you may need a larger loan.
References
Writer Bio
Ashley Donohoe has written about business and technology topics since 2010. Having a Master of Business Administration degree, bookkeeping certification and experience running a small business and doing tax returns, she is knowledgeable about the tax issues individuals and businesses face. Other places featuring her business writing include Zacks, JobHero, LoveToKnow, Bizfluent, Chron and Study.com.