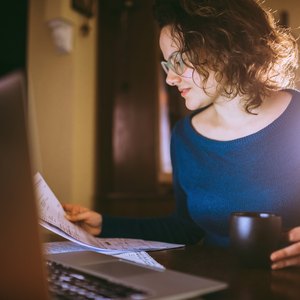 •••
urbazon/E+/GettyImages
A Social Security number is a powerful thing. It was never intended to serve as a general identification number, yet you probably find it does just that on a regular basis. You hand it over when you apply for credit, start a new job and show up for medical appointments.
Yet using only your name and that number, a criminal could apply for credit in your name, hurting the credit rating you've worked so hard to build. The good news is there is an alternative tax ID number. One of the key benefits of having a tax id number is that you can use in some instances to safeguard your Social Security number.
Understanding an EIN
What is an EIN number used for? Perhaps it would be better to learn what it is first.
The IRS provides an Employer Identification Number (EIN) to employers and sole proprietors to make it easy to do business without involving your personal Social Security number.
You aren't required to have an EIN if you're a sole proprietor – you can use your Social Security number to set up a business bank account, complete the paperwork necessary to work for clients and file your business taxes each year.
It's important to note if you apply for a sole proprietorship EIN number, that number will be tied directly to your own Social Security number. This means when your clients report the amount they paid you under your EIN, the IRS will immediately connect those payments to your own Social Security number.
By the same token, if you apply for credit using your EIN, whether as a business or a sole proprietor, the creditor will trace the EIN back to the Social Security number provided when the EIN was issued and that person's credit will be used.
Even if a business's EIN was applied for using an EIN of a registered person leading that business, eventually the EIN will trace back to a Social Security number, and that's the number that will be used if the business doesn't have its own established credit history.
Benefits of an EIN for the Sole Proprietor
The IRS has a checklist to help you determine if you need an EIN. If you have even one employee, you'll have no choice.
The IRS requires employers to have an EIN, even if they're sole proprietors with one employee on the payroll. This is because you'll be taking taxes out on what you pay your employees, which will require you to complete Form W-2, where you'll be asked to input your business's EIN and each employee's Social Security number.
Because you don't take taxes out on what you pay independent contractors, you won't need an EIN to hire a freelancer to help out with your business.
But even as a sole proprietor, it may be wise to take the few extra moments to sign up for an EIN. One of the benefits of an EIN number is that it protects your Social Security number since every new client will require that you complete a Form W-4 so that they can report what they paid to the IRS.
Instead of blasting your Social Security number off to everyone who contracts with you, you'll be able to provide your EIN and get the same results. Additionally, your EIN will offer a level of professionalism that a personal Social Security number doesn't. It shows prospective clients that you're serious about your business.
Getting an EIN as a Sole Proprietor
If you're a sole proprietor, applying for an EIN is simple. You'll go to the IRS website and click on Employer ID Number. You'll then choose Apply for an EIN Online. Once there, you'll click Apply Online Now and provide all of your information.
You can only apply online between the hours of ​7 a.m. and 10 p.m. EST​ Monday through Friday because your information is immediately validated, with a number issued in a matter of minutes. Once you get the confirmation notice, you can download, save or print it.
You also have the option of applying for an EIN by fax or mail, although it will naturally take longer than if you apply online. In fact, the IRS recommends mailing your request for an EIN ​four to five weeks​ before you need it and allowing ​four business days​ for your faxed request to be processed.
Getting a Business EIN
If you're applying for an EIN as a one-person operation or small startup, the process is as straightforward as applying as a sole proprietor. You'll use your own Social Security number and apply online, by fax or by mail.
Once you have your number, you can use it to report the taxes you take out for your employees, as well as other business-related information. You'll even be able to use the EIN to open a business bank account or apply for credit on behalf of your company.
However, for larger businesses, things can get a little more complicated. You'll need to choose a responsible party during the application process and use that person's Social Security number or EIN. That person must have ownership or control of the business and at least entitlement to the funds of that business.
Every EIN application must disclose the "true principal officer, general partner, grantor, owner or trustor," according to the IRS.
Changing an EIN
For many businesses and sole proprietorships, one EIN is all they'll ever need. But there are occasions where a new EIN becomes necessary.
Sole proprietors will need a new EIN if you file bankruptcy, incorporate, switch to a business partnership or purchase an existing business you choose to operate as a sole proprietorship. Otherwise, you can keep your EIN, even if you choose to begin hiring or your sole proprietorship grows into a business.
Businesses will need to obtain a new EIN if they receive a new charter, become a subsidiary of a corporation, change to a partnership or sole proprietorship or create a new corporation after a merger.
If your business name changes, you don't need to obtain a new EIN unless the change meets one of the previously mentioned conditions. However, you can notify the IRS of a business name change.
If you're a, you'll simply write the IRS at the address where you filed your return. If you're a business, you can mark the name change box on Form 1120 when you file your taxes.
Losing Your EIN
Even if you print or save your EIN, you may misplace it at some point. If that happens, don't panic. You can easily find out what it is.
First, check previous tax filings or W-4 forms to see if you've listed the EIN there. This will be the quickest and easiest way to access your number. You may also find your EIN on your bank account or paperwork you filed for a business license.
If you're the person who is authorized to receive the EIN, the representative will be able to read the number out to you on the phone. You can only call this line between the hours of ​7 a.m. and 7 p.m. local time,​ Monday through Friday.
Estates and EINs
EIN numbers aren't only used for business purposes. You need to obtain a tax id number for estate, so your EIN can also be used as an estate tax ID number.
When someone dies, that person's assets transfer to an estate, where they can then be managed as legally merited. Income from those assets will need to be reported to the IRS through an estate income tax return.
This means that if the deceased had stocks, investments, rental property or other items that can be turned into income for heirs, it will need to be reported on Form 1041, provided the income generated is ​greater than $600​.
Before you can file, though, you'll need to obtain an EIN for the estate. This number will be used when filing taxes for the estate.
You'll use the deceased person's Social Security number, as well as the Social Security number of the executor of the estate. The executor will be responsible for making sure all of the taxes get paid out of the estate, including setting up ​quarterly payments​ if necessary to avoid penalties.
Paying Taxes on Employees
When you get an EIN, you'll simultaneously be enrolled in the IRS's Electronic Federal Tax Payment System, which will allow you to deposit the taxes you withhold from employee paychecks either online or by phone.
You'll receive a confirmation of this enrollment by phone, along with a PIN and instructions for logging in and getting started. You won't be able to make electronic deposits until you get this form.
You'll deposit employee taxes either monthly or biweekly, depending on the schedule you choose at the start of each year. You'll need to make each payment on time to avoid paying a late penalty of ​as much as 15 percent​ of the taxes due. Use Forms 940, 941 and 944 to file electronically and pay taxes on all wages, tips and other compensation you pay every W-2 employee on your staff.
At the end of the year, you'll need to provide a W-2 Form to every employee, even those who are no longer in your employ. If you paid ​wages of $600 or more​ to contractors, you'll also need to provide a 1099-NEC.
Forms are required to be sent out by the end of January. If taxpayers haven't received them by the end of February, the IRS advises them to first contact you and then contact the IRS. They can file a Form W-2 complaint and you may be required to pay penalties for failing to provide a form.
Getting a Business License
If you run a business, you'll want to put your EIN to use setting up your business with local authorities. If you're an independent contractor, you likely won't need a business license for the work you'll do.
However, if you plan to hire employees, operate a storefront or sell products or services that are subject to sales tax, you'll need to get the proper licenses. This starts with what you need to legally operate locally, as well as any licenses or permits specific to the type of business you plan to run.
Once you've sold your first item, you'll need to begin paying sales tax. Each state has its own specifications regarding which items are taxed.
The first step is to get a sales tax permit, which is issued by your state's department of revenue. You'll have specific instructions as to how to file, but you'll need to ​pay sales tax quarterly​ at a minimum. Businesses that collect a large volume of money are often required to pay monthly.
The entire process of collecting, tracking and submitting sales tax is far easier than it once was, thanks to technology. Whether you run a brick-and-mortar business or sell items online, you can usually set up your sales tax activities through your point of sale system. As long as your bookkeeping is solid, everything will likely run automatically.
References
Writer Bio
Stephanie Faris has written about finance for entrepreneurs and marketing firms since 2013. She spent nearly a year as a ghostwriter for a credit card processing service and has ghostwritten about finance for numerous marketing firms and entrepreneurs. Her work has appeared on The Motley Fool, MoneyGeek, Ecommerce Insiders, GoBankingRates, and ThriveBy30.