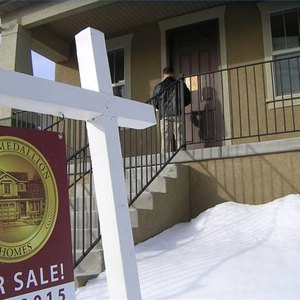 The U.S. Department of Housing and Urban Development (HUD) sells foreclosed homes exclusively through HUD approved brokers. In addition to having exclusive access to these listings, HUD brokers enjoy several benefits for selling HUD homes, including making up to five percent commission on the sale of each home and faster closings.
Download and print the application forms SAMS 1111 Broker application and SAMS 1111A Selling Broker Certification from www.hud.gov. The HUD website has an entire section for brokers that are interested viewing HUD listings, learning about the bidding process and becoming a HUD broker in their state. In order to qualify to become a HUD broker, you must provide HUD with a copy of your real estate broker license, a bank statement or utility bill with your business address and some form of identification such as a driver's license or Social Security card.
Type or write in the information that is requested on the application forms. HUD will process this information and issue each broker a Name and Address Identifier number (NAID) which needs to be renewed once a year.
Attach copies of all the paperwork that is requested under the instructions on the SAMS 1111 Broker application and check the HUD website for your state's management and marketing contractor to see if any additional forms or documents are required. These contractors are responsible for the management and marketing of HUD homes. They are responsible for receiving and verifying HUD broker application forms and documents before turning them over to HUD for final processing.
Submit application forms and documents to your state's management and marketing contractor. Keep copies of your application forms for your personal records. In some states, it takes up to eight weeks for HUD to process your application and issue you an NAID number. You can contact your state's management and marketing contractor to see if she has a way to check the status of your application online. If so, you will need your Social Security number or tax ID number to look up the status of your application.
Writer Bio
Victoria Robles graduated from Kaplan University with a degree in Paralegal Studies in 2007. She also earned her associate degree in business from Champlain College in 2002. Robles is a former job coach with three years of experience in editing real estate marketing materials and writing resumes for job seekers at her local workforce center.