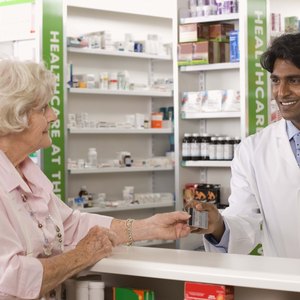 •••
Jupiterimages/Polka Dot/Getty Images
Surviving when you do not have enough money is a challenge many people face. It is not true that free grants are available to everyone, and those who have tried this route have been disappointed. Grants are available for specific purposes, however, such as education, medical treatment, assistance with utility bills, housing and home repairs. You must prove that you meet the eligibility criteria and that you can fulfill the requirements of the grant in order to receive approval for a grant.
Search the database of the federal grants program. Look for grant categories that cover the areas in which you need financial aid. Read the eligibility criteria for every grant to see whether individuals may apply and what the requirements are to qualify.
Check out studentaid.ed.gov for educational grants. You can qualify for up to $5,500 per year if you have are an undergraduate wishing to earn a bachelor's or professional degree.
Look for state grant programs specific to the state in which you live. For example, residents of Maine can apply to the Financial Authority of Maine for financial assistance under a variety of grants.
Visit the U.S. Department of Agriculture for grants for housing and home repairs. If you are over 62 years old and live in a rural area, you can apply for the USDA's Section 504 grant program for funds to do home improvements. Use this money for repairs to make the home safe and sanitary, such as damp proofing, heating and wiring.
Contact the United Health Care Children's Foundation (uhccf.org) for information on medical grants for children. The 501 (c) 3 charity provides funds for treatment not covered by commercial health benefits. If you have a child under 16 years old who needs medical care, you may qualify for financial assistance under this program.
Download the grant application package for the Self-Help Home Ownership Program from the U.S. Department of Housing and Urban Development's website. Introduced in 2011, this program helps nonprofit and community groups purchase land and build homes for their members.
Gather the documentation that you need for the applications. This may include proof of income or unemployment status, proof of identity, your monthly budget and written quotations for the home repairs, medical treatment or education for which you need funding.
Complete the applications for the grants to which you are applying. Make sure you describe your situation clearly in the application, and check your spelling and grammar to be certain it is understandable.
Submit the application. Most forms can be completed and submitted online, although you may have to scan or fax your supporting documentation to send with it. If necessary, take your documentation to the local office of the organization to which you are applying and submit it in person.
Wait for the response. This may take some time and you will need to be patient, so apply well in advance for the grants you want.
Beware of emails and advertising offering "free" grants in exchange for your bank account details. The Federal Trade Commission warns that these are usually scams.
References
Warnings
Beware of emails and advertising offering "free" grants in exchange for your bank account details. The Federal Trade Commission warns that these are usually scams.
Writer Bio
Tracey Sandilands has written professionally since 1990, covering business, home ownership and pets. She holds a professional business management qualification, a bachelor's degree in communications and a diploma in public relations and journalism. Sandilands is the former editor of an international property news portal and an experienced dog breeder and trainer.