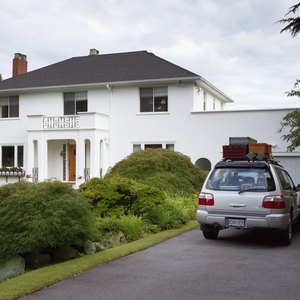 •••
Noel Hendrickson/Photodisc/Getty Images
To appraise the value of your rental property, you will first need to decide on a method. Large investment properties like apartment and office buildings are frequently appraised with the income capitalization method that looks at their net operating income as the primary source of value. Rental homes, on the other hand, are frequently analyzed like regular owner-occupied homes, since an owner-occupant is likely to buy them. This method of analysis works by looking at the prices of comparable properties that have sold and adjusting them to devise a value for your specific property.
Collect basic information on your property from county assessor records, old appraisals, building plans and similar records. At a minimum, you'll want to know when your house was built, the size of its lot, and the square footage of the house, both above and below ground or finished and unfinished. If you don't have access to the sizing information, you can measure your house's exterior or the perimeter of your lot to get it.
Compile data on recent sales of comparable properties in your immediate neighborhood. While sales within one year are generally adequate, properties that have closed within the past three months should get the most weight. While the properties that you choose might not be identical to yours, they should be fairly similar. For instance, a four-bedroom house with a den is relatively similar to your four-bedroom house with a bonus room, but a two-bedroom condo down the street wouldn't be. To find comparables you can go to your county assessor, review public records of sales, get them from a title company or real estate agent or look at sales data on major real estate websites.
Drive by the comparable properties that you selected to determine if they truly are similar to your house. While it'd be nice to physically inspect their interiors, you might not be able to. If a property isn't comparable, exclude it from your analysis.
Adjust your value based on the comps. If your house falls in the larger or more updated end of the scale represented by the sales you pulled, assign a value that falls in the higher end, while if your house is smaller or in need of updates, assign a value that falls in the lower part of the range. It is not reasonable to expect that you can get an exact value, but you should be able to get a ballpark estimate.
Review online valuation sites to get another sense of the value of homes in your area. While these sites aren't always accurate, they can be a useful tool to check your assumptions.
Hire a professional appraiser if you need to get an accurate value for your house. Appraisers have both the skills and the information to complete a deep analysis of the comparable sales and accurately price your house.
References
Resources
Writer Bio
Steve Lander has been a writer since 1996, with experience in the fields of financial services, real estate and technology. His work has appeared in trade publications such as the "Minnesota Real Estate Journal" and "Minnesota Multi-Housing Association Advocate." Lander holds a Bachelor of Arts in political science from Columbia University.