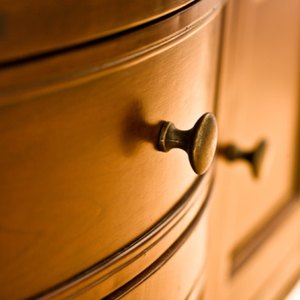 •••
Jupiterimages/Photos.com/Getty Images
Obtain professional appraisals for antique furniture to determine the current value of and future resale potential of your collectibles. Insurance policies may also require an appraisal along with your bill of sale, if available, to establish replacement value.
Appraisals provide authentication and credibility to the value of your cherished antiques. Whether your antique furniture is a future heirloom or part of a long-term investment strategy, appraisals establish asset value. Exceptionally valuable furniture almost always comes to the buyer with established provenance.
Learn about the appraisal process prior to acquiring antique furniture, or before engaging an appraiser. For example, refinished, refurbished, or reupholstered antiques may make dating antique furniture more difficult. Identify items with original finishing. According to the "Furniture Gazette" (1884), the thickness of original finishing may help to date antique furniture. Georgian finishing, typically applied by hand, is approximately 1/16 of an inch thick. With machine manufactured furniture of the early Victorian age, around 1837, finishes thinned to approximately 1/32 of an inch.
Patina of the wood also helps to date the piece. Original finishing, and the patina of many years of care, contrast with unfinished wood. Stamped or handwritten numbers and words may be found on unfinished wood. Antique furniture may have locks. With or without the key to the locks, identification of the hardware or makers' marks helps date and authenticate the antique.
Contact the American Society of Appraisers, the International Society of Appraisers, or the Appraisers Association of America to obtain recommended appraisers of antique furniture.
Locate a nearby antique furniture appraiser by performing an online search. Many dealers, antique malls and exhibits provide access to experienced, established antique furniture appraisers. Ask for references from the appraiser to identify those with satisfied clients. Services such as Antique-Appraisals Online or Asheford Institute of Antiques offer tutorials about antiques appraisal.
Identify an online appraisal service if this suits your needs. The Internet Antique Shop (TIAS.com) network provides access to antique furniture appraisers. Submit photos of your items according to appraiser instructions and establish fees for service prior to agreeing to research by the appraiser. Hours of research may make the cost of appraisal overly expensive. In the book, "How To Buy And Sell (Just About) Everything," Jeff Wuorio suggests obtaining any quotation for the appraisal in writing before authorizing the appraiser to begin his research.
Contact an auctioneer in your market. Purchasing antique furniture through an auctioneer usually provides the owner with a professional description of the purchase. This detailed description helps when seeking a professional appraisal.
Some auctioneers welcome photo submissions of antique furniture. Taking this step may lead to a discussion about placing your antique furniture in an auction. Prior to selling your furniture at auction, make sure to obtain at least one or more independent appraisals.
Recognize that appraisals differ. To obtain the highest degree of accuracy, do not provide your appraiser with the cost basis. This information is required by your insurance agent. Your antique furniture appraiser should possess the skills and market knowledge to provide an authentic, unbiased assessment of your items.
Buy well-preserved antique furniture when possible to avoid the need to restore or refurbish them. Have all antique furniture appraised, whether or not the items have been in the family for years. Insure all antique items at replacement value.
High quality antique furniture reproductions exist that can fool many sophisticated buyers and appraisers. When purchasing antique furniture of high value, ask questions and request the return privilege in writing.
References
"Furniture Gazette"; Vol. XXII-New Series; July-December, 1884
Writer Bio
Laura Lemay started writing in 1996. She has published articles on Luxist, Paw Nation, StyleList, Gadling, Urlesque, Asylum, BloggingStocks and other websites. Lemay also worked at "Ladies Home Journal" and "Institutional Investor." She holds a Bachelor of Arts in English from Smith College and a Master of Arts in education from Virginia Tech.