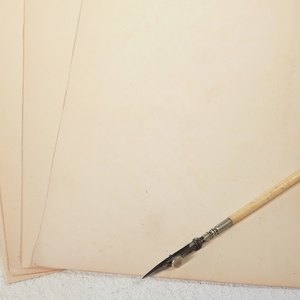 •••
rare paper image by Chad McDermott from Fotolia.com
A property title is a transferable legal status that indicates ownership of a property and the rights that come with it. For real estate, it is usually proved in the form of a real estate deed.
In Washington, just like in other states, you must follow the legal procedure when adding someone to a deed with a mortgage. You should also factor in the forms of property ownership when transferring the property title to another person. Otherwise, there may be ownership wrangles in your future or a loved one may end up losing the property if its ownership is disputed.
The Deed: An Introduction
A property deed is a legal document that both the buyer (grantee) and the seller (grantor) of a property must sign in the presence of a notary public to prove that ownership transfer has taken place. Thereafter, it must be recorded at the county clerk's or county recorder's office to make it official.
It grants you the property or land title and all its associated rights in exchange for a specified amount of money (which could be zero). When recorded within public records, it notifies other people that you are the current property owner. Without a property deed, it may become impossible to prove that you own a piece of land or the structures on it.
Three primary types of deeds exist in the state of Washington:
​General Warranty Deed​: This kind of deed grants the buyer absolute rights over the property they buy and protects them from any future claims by the seller and other previous property owners.
​Quitclaim Deed​: This deed gives the buyer an interest in a property, but does not guarantee them or other people the title to the real estate since it implies the grantor does not necessarily own the title. People use them to gift properties, settle legal disputes, correct previous deeds and simply confirm the buyer has no interest in the property.
​Special Warranty Deed​: This type of deed guarantees the new owner that during the seller's ownership period, no title defects existed. In Washington, it is known as a bargain and sale deed.
How to Transfer Property Title to Another Person
It helps to learn how to transfer a house from parent to child or a spouse to another if you intend to give the land title to a loved one. As you learn how to transfer a property title to another person, remember you are ceding some of your rights as the owner.
If you intend to transfer property ownership, it would be wise to use the quitclaim deed. You can do it for your spouse, children or a trust that will benefit your loved ones in the future. You should also use the quitclaim deed to change a house title name in case of a name change. And you can use it to add another house title name.
Below are steps you can follow:
​Obtain the form.​ You must download and print the Washington quitclaim deed form or obtain it from county offices or other stores where legal forms are sold.
​Contact the parties.​ If there are other parties with interest in the land title you want to transfer, you must contact them and inform them of what you want to do.
​Make sure all are in agreement.​ If everyone is in agreement, all property owners with a vested interest must be willing to sign the quitclaim deed.
​Complete the form.​ Complete the relevant sections using an inked pen. And be sure to include the soon-to-be owner's name.
​Find a notary public.​ Contact a notary public and go to them with relevant documentation, such as government-issued photo IDs for each party concerned, including the recipient of your property transfer.
​Sign the document.​ All parties with interest in the land and structures on it must sign and date the quitclaim deed as grantors in the presence of the notary public. And then, the notary public must sign and date the document and include their official seal.
​Supply copies.​ Ensure everyone gets a copy of the deed.
​Go the the county recorder's office.​ Take the quitclaim deed to your local county recorder's office, pay the fee and have it officially included within the public records. Remember, without recording the transfer, the entire process becomes null and void.
​Get the public records information.​ Inquire for the public records information concerning where the deed is recorded so you can search for it easily in the future.
What Are the Tax Implications of Adding Someone to a Deed?
There are no tax implications of adding someone to a deed if you are tax exempt and follow the legal procedure. When the transfer is a complete gift, you won't pay the real estate excise duty. Neither will you pay taxes when transferring a land title interest to a spouse in case of a divorce or to create community property. Also, if you are simply relinquishing all interests to a title, the event is not taxable.
However, if you don't follow the legal process, you may end up paying some taxes. The law may also require the person you have added to a land title to pay taxes as well if you don't pay them or if they assume some financial responsibility for the property that you have given them.
References
Writer Bio
I hold a BS in Computer Science and have been a freelance writer since 2011. When I am not writing, I enjoy reading, watching cooking and lifestyle shows, and fantasizing about world travels.