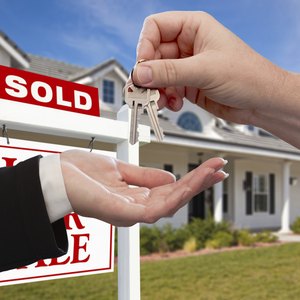 •••
Andy Dean/iStock/Getty Images
Understanding the many tasks involved in buying a home takes the right preparation and guidance. Third parties can help you get the wheels turning before you start looking for a home. They also help you get through the buying process itself. A real estate agent, a mortgage adviser, inspectors and an attorney are some of the professionals you'll want on your team.
Loan Information Gets Your Foot in the Door
Unless you're paying for a home entirely in cash, you'll need a mortgage. You may have an idea of what you can afford to pay for a home, but a lender checks your credit, income and assets to provide a solid figure. Real estate agents and home sellers usually need this financing information to take you seriously. Most require a loan pre-qualification or pre-approval letter from the lender stating the loan amount you can finance and the maximum purchase price you can afford.
Locate the Right Agent to Work With
Shop for the right real estate agent before you embark on a home search. A good real estate agent listens to your property wants and needs. She also narrows your options, saving you time and hassle. Find agents through advertisements in the area you want to buy, real estate offices and referrals from trusted homeowners or your loan professional. Interview at least three agents to determine their professionalism, experience, training and rapport. Also, contact their most recent homebuyer clients to get insight into their performance.
Homeownership Costs May Surprise You
Your lender will discuss your down payment, closing costs and monthly housing payment and provide an estimate. Your down payment can range from zero to more than 25 percent, depending on factors such as credit, property type and loan type. You can also expect closing costs between 2 percent and 5 percent of the sale price. A basic monthly housing payment consists of principal, interest, property taxes and homeowners insurance. Depending on the home and your loan, you may have to pay for flood insurance, homeowners association dues, escrow impounds and mortgage insurance, which protects the lender.
Take Time to Read Disclosures
Your loan professional and real estate agent provide unique disclosures that you should understand and inquire about whenever information is unclear. For example, lenders provide initial disclosures for costs and loan terms, and supply updated forms if your loan's features change. You also sign a stack of loan documents at settlement, or closing to finalize your loan. Look out for features that affect payments, such as an adjustable interest rate, which may cause your mortgage payment to increase over time, or previously undisclosed costs.
Real estate agents provide property-specific disclosures, many of which are furnished by the home's seller. You also sign real estate forms specific to your state and jurisdiction. Read all disclosures carefully; they can provide valuable information about the property's condition and any defects or circumstances that may affect the home's desirability. Ask your agent when unclear about a disclosure's content. Also, consult a real estate attorney, as agents can't provide legal advice.
Do Your Due Diligence
Most real estate purchases give you a certain amount of time to investigate various aspects of the home. These may include local natural hazards, neighborhood or community restrictions, and insurability of the home. You should hire a general home inspector and specialists, such as a plumber, electrician, an exterminator and a licensed contractor to help you determine the home's structural soundness and safety of components. These services are generally optional, and you may have to pay providers up front, apart from closing costs.
References
Writer Bio
Karina C. Hernandez is a real estate agent in San Diego. She has covered housing and personal finance topics for multiple internet channels over the past 10 years. Karina has a B.A. in English from UCLA and has written for eHow, sfGate, the nest, Quicken, TurboTax, RE/Max, Zacks and Opposing Views.