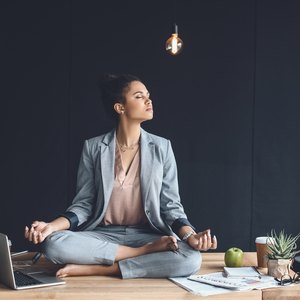 •••
LightFieldStudios/iStock/GettyImages
Smart companies often understand that the health of its employees makes for a more successful business. To help keep workers healthy, they often adopt wellness programs, which often increases productivity and decreases the costs related to health care and employee absenteeism. The Centers for Disease Control and Prevention promotes workplace wellness programs as a way to improve the health and quality of life for Americans and reduce the nation's health-care costs.
General Wellness Program Examples
A company wellness program can range from very simple to much more complex. An easy idea to encourage employees to move more is to give each employer a pedometer and begin a step challenge. Offer prizes to the top stepper as an incentive for employees to join the challenge.
If you have the space in your office, consider offering fitness classes such as yoga once or twice a week. If there's not enough space, the company could sponsor a portion of a membership for its employees to a local gym or fitness studio.
A wellness program can extend to food, too. Keep the break room stocked with healthy snacks, such as fruit, so they don't turn to sugary treats when the mid-afternoon slump hits. Make water bottles cheaper than soda in the vending machine (or remove soda entirely), so they're more likely to purchase H2O.
•••
LightFieldStudios/iStock/GettyImages
Specific Wellness Program Examples
SAS, an international software company located in North Carolina, offers its employees a wellness program built around its Recreation and Fitness Center. The RFC is open to SAS employees, retirees and family members. The wellness program includes health checks, smoking cessation and rewards for fitness accomplishments, participation in leisure time activities and completion of the six-month Your Way to Wellness program. The on-site health care center provides primary health care and preventive services to employees and covered dependents.
University of Alaska employees may complete a personal wellness profile to identify health concerns and guide their participation in on-site health and wellness activities. The UA Health in Action program, in partnership with Wellness Initiatives Network for Alaska, also serves as a portal for university employees to health and wellness activities. Employees may participate in health screenings, fitness events, health seminars, health coaching, wellness breaks and online health tracking. The university provides incentives for participation in some programs.
References
Resources
Writer Bio
Gail Sessoms, a grant writer and nonprofit consultant, writes about nonprofit, small business and personal finance issues. She volunteers as a court-appointed child advocate, has a background in social services and writes about issues important to families. Sessoms holds a Bachelor of Arts degree in liberal studies.