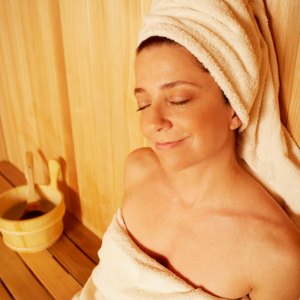 •••
40260/Stockbyte/Getty Images
Whether you choose a steam, Finnish, infrared or outdoor model, home saunas can offer relaxation and improve feelings of well-being, says Dr. Harvey Simon, editor-in-chief of "Harvard Men's Health Watch." Choosing the model that is right for you requires understanding the differences of each type and taking location, space and cost into consideration.
High Tech Health Far Infrared Sauna
According to a December 2003 article written by Dr. Jonathan Wright in "Nutrition & Healing," High Tech Health's far infrared saunas are reliable and easy to assemble. The far infrared sauna uses a longer wavelength of infrared light or radiation than regular infrared saunas and the air stays dry, as opposed to humid like a traditional steam sauna. Far infrared lamps heat only the skin, leaving the air in between cool. This type of sauna reduces the need to constantly turn to expose different parts of the body to the heat source.
The High Tech Health Far Infrared Sauna has been recommended by environmental medicine expert Dr. Sherry Rogers, author of "Detoxify or Die," as well as other health professionals. It comes in three sizes to fit available space, has a lifetime warranty and a 30-day money-back guarantee. As of 2010, prices were not disclosed online.
Harmony H-1
Saunas.com recommends the Harmony far infrared sauna due to its low price, easy installation, easy use and use of hypo-allergenic hemlock wood construction. The Harmony utilizes a carbon emitter far-infrared heating system, which is a wall-to-wall heating system that completely and consistently envelopes the bather with heat. It has carbon heating panels below the benches and interior digital controls. As of 2010, the one-person Harmony H-1 cost around $1300 and could be purchased online.
Dr. Wilson's Near Infrared Light Sauna
In a 2010 article, nutrition consultant Dr. Lawrence Wilson says that any sauna is better than no sauna, so one that is affordable and convenient is preferable over a pricier version if it keeps you from getting one. Dr. Lawrence suggests using a near infrared sauna over a far infrared sauna due to less harmful electromagnetic fields and the fact that the heat penetrates deeper and can be concentrated over a specific part of the body. Dr. Wilson also prefers near infrared because the wavelengths are more beneficial to the healing of human tissues; he believes they are more relaxing that far infrared wavelengths. Other benefits from the near infrared sauna include cost savings from using one-third of the electricity of a far infrared sauna, benefits of color therapy and this unit's ease of assembly. A near infrared sauna is very affordable, costing around $580 in 2010 and takes up very little space.
Polar Finnish Sauna
Finnish saunas use traditional hot rocks to create steam heat. While infrared saunas may be less costly, some people like the feel of the moist steam in a traditional hot rock sauna. Others dislike the intensity of heat created in a Finnish sauna and prefer the concentrated heat of infrared. If a hot rock sauna is your preference, Galt Home's Sauna Reviews and Buying Guide recommends the Polar brand of Finnish saunas. Polar offers almost 30 different models depending on the size you want. Polar saunas are pre-cut and come completely unassembled so they can be fit into almost any location. When adding the roof package option, the Polar can be constructed for outdoor use. As of 2010, Polar saunas started around $3000 and went up to about $8000 for an 11 by 12-foot room.
References
Writer Bio
When not working in her family-owned food and bar business, Viola Horne can almost always be found with a cookbook in one hand and a whisk in the other. Horne never tires of entertaining family and friends with both comfort food and unusual delicacies such as garlic cheese smashed potatoes and banana bacon pancakes.