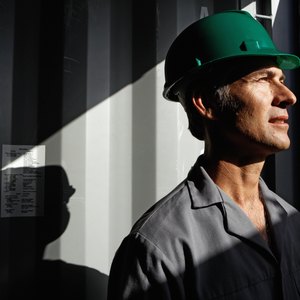 •••
Tay Jnr/DigitalVision/Getty Images
The Occupational Safety and Health Administration, or OSHA, was established in 1970 to encourage employees and employers to decrease workplace hazards. OSHA recommends that both parties cooperatively establish workplace-specific safety standards. The agency also establishes training programs for occupational safety and health personnel. Finally, OSHA oversees research to find new approaches to workplace safety and health issues, according to Princeton University Environmental Health and Safety Department.
Workplace Standards
OSHA sets safety and health standards for many work environments, and ensures that employers comply with those standards. Some standards are written for specific industries, as illustrated by hazardous waste workers' personal protective equipment. Where no regulations exist for a given industry or workplace, OSHA mandates that the employer has a duty to provide a workplace without known hazards that could cause serious physical injury or death, states Environment, Health and Safety Online.
Universal OSHA Standards
Some OSHA standards apply to all industries. Employees and OSHA personnel must have access to medical and toxic substances exposure records. Employers must provide workers with equipment that protects against industry-specific workplace hazards, and must show employees how to use it. Manufacturers and importers of hazardous materials must provide a Material Safety Data Sheet to customers. Employers must train employees to deal with product hazards, notes the United States Department of Labor.
Recordkeeping
The Occupational Safety and Health Act of 1970 applies recordkeeping standards to most employers with more than 10 employees during the former calendar year. These employers must keep records on employee illnesses, injuries and fatalities. Other employers may be required to keep the records if requested to do so by OSHA, state health and safety offices, or the Bureau of Labor Statistics. All incidents with fatalities or hospitalization of three or more staff must be reported. OSHA analyzes these records to identify workplace hazards and improve its programs, states OSHA Academy.
Standards Enforcement
OSHA issues directives that tell employers how to comply with OSHA standards. These directives detail the roles of Compliance Safety and Health Officers, or CSHO's, who are tasked with OSHA standards enforcement. These trained safety and health professionals enforce standards for general industry, maritime professions, and health-related construction issues. CSHOs interface with the Whistleblower Protection Program. This program prohibits retaliation against employees who contact OSHA about workplace hazards.
Training Programs
The OSHA Directorate of Training and Education facilitates safety and health training courses for compliance officers, federal agency staff and state consultants. In addition, OSHA's Outreach Training Program offers qualified workers an opportunity to become workplace OSHA trainers. Outreach Training Programs are targeted to general industry, construction trades, maritime professions and disaster site operations.
References
Writer Bio
Based in North Carolina, Felicia Greene has written professionally since 1986. Greene edited sailing-related newsletters and designed marketing programs for the New Bern, N.C. "Sun Journal" and New Bern Habitat ReStore. She earned a Bachelor of Science in business administration from the University of Baltimore.