1040 EZ Eligibility
by Terry Masters ; Updated April 19, 2017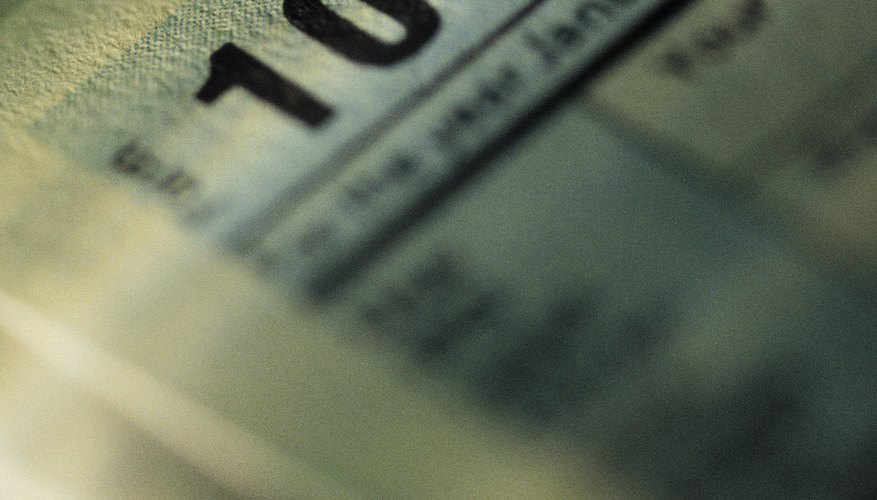 The Internal Revenue Service tries to simplify the chore of taxpayers paying their income taxes every year. One of the options that the IRS makes available is a short form tax return called the 1040EZ. This form streamlines return preparation by substituting one standard deduction for financial details at the line item level. The theory is that the short form will save time and help a taxpayer calculate his taxes with a reasonable degree of accuracy. In the day of paper tax forms, a lot of thought went into determining whether a person was eligible to use Form 1040EZ. With the advent of electronic tax filings, software can quickly determine if you are eligible to file a 1040EZ based on the information you enter. The eligibility requirements for Form 1040EZ are still relevant for discussion and planning purposes, and for taxpayers who continue to file paper forms.
Citizenship
The most basic eligibility requirement for using Form 1040EZ is citizenship. The form may be used by income tax filers who are citizens or residents of the United States. Nonresident aliens, dual-status aliens and individuals who file returns for periods of less than 12 months are not eligible to use this form.
Income
Only taxpayers who earn under $100,000 in income during the year from wages, salaries, tips, taxable scholarship or fellowship grants, unemployment compensation or Alaska Permanent Fund dividends may use Form 1040EZ. This income cannot include self-employment earnings or more than $1,500 in interest or investment income, including income from the sale of property. Essentially, the 1040EZ is intended for taxpayers who work as employees, receive a W-2 form listing their wages for the year and do not have substantial investments in the stock market.
Family Status
Only single individuals and married couples filing jointly can file their taxes on Form 1040EZ. For married filers, the $100,000 income limitation applies to their combined income, and they can use Form 1040EZ only if both spouses were under the age of 65 and not blind at the end of the tax year. Furthermore, 1040EZ filers cannot claim any dependents, including children or adult family members. This restriction does not prohibit you from having dependents; you simply cannot claim them using this tax form. If you have children who are claimed on the tax return of an ex-spouse, you would satisfy this eligibility requirement.
Deductions
To be eligible to use Form 1040EZ, you must not plan to itemize deductions. Filers using 1040EZ are required to use the standard deduction. If you are married filing separately and your spouse has itemized deductions, you cannot use this form – if your spouse itemizes deductions, you must do the same. Common adjustments to income that you must sacrifice to use Form 1040EZ include deductions for IRA contributions and student loan interest.
Credits
Filers who do not plan to claim any tax credits or who intend to claim only the Earned Income or Making Work Pay credit may use Form 1040EZ. You must be willing to forfeit all other credits, such as the Lifelong Learning and childcare credit.
Special Eligibility Requirements
A few other eligibility requirements limit the use of Form 1040EZ. If you want to file this short form and you have earned tips, that tip income must be reported on your W-2. You must not have received any advance earned income credit payments, and you cannot have filed Chapter 11 bankruptcy after October 16, 2005. You cannot file a 1040EZ if you owe employment taxes on wages paid to a household employee.
Photo Credits
Comstock/Comstock/Getty Images