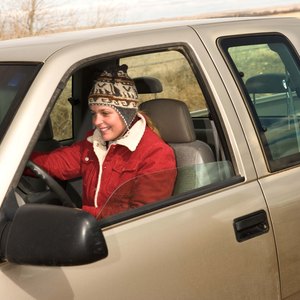 •••
Jupiterimages/Comstock/Getty Images
You may consider purchasing a truck for a teen when he or she gets a driver's license. When looking for a truck, purchasing the truck with the cheapest price tag might not be the cheapest in the long run. You should also consider the cost to insure the vehicle, make repairs, buy fuel and overall safety ratings.
Fuel Economy
Before purchasing a truck, look at the estimated fuel economy. Older trucks tend to be slightly less fuel efficient than newer models, and smaller trucks and trucks with a V6 tend to get better fuel efficiency than larger, more powerful models. To get the most bang for your buck in the long run, look for trucks with the best estimated MPG by utilizing the estimated MPG rating system at the US Department of Energy. Another way to save is with Flex Fuel Vehicles, which run on both gasoline and ethanol, or E85. E85 is less expensive than regular gas. If you are looking at a pre-owned vehicle that is a 1998 or newer, it may be a Flex Fuel Vehicle.
Safety Rating
The Insurance Institute for Highway Safety gives safety ratings to all makes and models of vehicles. They test the vehicle for how well it handles in a crash. They will look at how well it protects the occupants from injury in a variety of different crash scenarios. Check the IIHS crash rating on all vehicles before purchase; the higher the rating, the safer the vehicle. SafeCar.gov is another resource for safety ratings. Older vehicles that did well are the 1995 Chevy 1500, 1995 Ford F-150 and 1995 GMC Sierra, which all received 5-star safety ratings from SafeCar.gov.
Insurance
Teen drivers will need auto insurance. To save the most on insurance, choose a truck with the highest safety rating and least powerful engine. Trucks have powerful engines, but opting for a V6 instead of a V8 can mean big savings on your insurance. To save the most money, add the teen to a current policy and assign them to the vehicle that is cheapest to insure. Good grades and good driving can also get you deep discounts.
Certified Pre-Owned
Certified pre-owned trucks may offer long-term savings with a lower repair bill. Certified pre-owned vehicles are offered by most major auto dealerships. These vehicles go through a rigorous inspection process and may come with a CARFAX vehicle report. The CARFAX vehicle report will outline any past accidents the vehicle may have been involved in and provide a better outlook on how the vehicle was cared for in the past. Many certified pre-owned vehicles also come with extended warranties and maintenance plans. This can ensure the truck is in the best possible working condition and backed by the dealership's guarantee.
References
Writer Bio
Tara West graduated from the University of Tulsa with a bachelor's degree in business administration and human resources. West specializes in parenting, green living and career development as a regular contributor at SocialMoms.com. She has been featured on a variety of websites including a childhood favorite, Reading Rainbow.