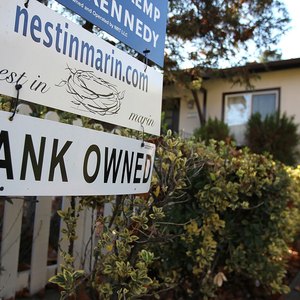 •••
Justin Sullivan/Getty Images News/Getty Images
In Florida, tax certificates are used by the county Tax Collector in collecting ad valorem taxes on property with delinquent tax bills. Ad valorem taxes are taxes based on the assessed value of property. Tax deed sale dates are determined by the processing time needed once the tax certificate holder elects to bring the property to sale.
Bid Determination
A non-homestead property opening bid is equal to all outstanding taxes plus interest, if any, earned on the tax certificate plus all sale related costs and fees. A homestead property opening bid consists of half of the assessed value of the property plus all outstanding taxes and interest, plus all sale-related costs and fees.
A homestead property in Florida is a property claimed to be a permanent residence.
Ground Rules
In the event there are no bidders, property will be sold to the certificate holder. The tax certificate holder will pay the documentary stamp and recording fees to the Clerk. A tax deed will be issued and recorded by the Clerk.
A non-refundable $200 deposit issued to the Clerk is required at the time of the sale. This deposit will be applied to the sale price when full payment is received.
Any person who has previously bid and refused to honor a bid, for any reason, will be refused to be recognized by the Clerk.
All payments need to be made in full within 24 hours, excluding weekends and legal holidays, to avoid cancellation by the Clerk. If payment is not received the property will be re-advertised and all costs will be taken from the deposit. Remaining funds must be applied to the opening bid.
No personal or business checks are accepted. Cashiers check, certified check, money order, or cash payments only.
A valid photo I.D. is required for all bidders.
The sale will be rescheduled within 30 days from the original date if these requirements are not met.
Due Diligence
It is the buyer's responsibility to verify that the property is what he thinks he is getting. Check with a lawyer if any liens are found to determine if they are dis-chargeable or not. No warranties are given by the clerk as to the quality of the title received. Determine access, zoning and whether the lot is build-able prior to bidding.
References
Writer Bio
Anne Bender is an accountant with more than 15 years experience. She has written several articles for eHow and soyouwanna.com and is an aspiring fiction writer and part-time farmer.