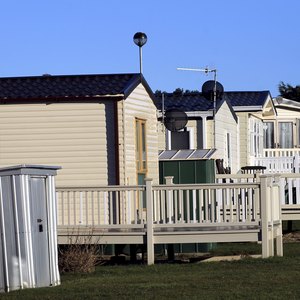 •••
uptonpark/iStock/Getty Images
According to the Delaware State Housing Authority (DSHA), about 70,000 Delawareans live in manufactured homes, many of which are located in communities. Two general categories of parks exist in Delaware: land-lease communities in which each homeowner pays a monthly ground rent as part of a lease agreement and communities that have no ground rents because residents own both their homes and their lots.
Advocating Ownership
According to the DSHA, efforts to increase land ownership among manufactured-home owners have been unsuccessful for the most part, but it points to signs of growing traction. State law now allows for the formation of homeowner associations and cooperatives among mobile home owners in land-lease communities, for example. In addition, ROC USA, a New Hampshire company that helps homeowners' associations in mobile home communities purchase their communities, provides technical assistance and financing to Delaware associations.
Owned Lots Vs. Leased Lots
The DSHA notes that even in well-managed land-lease communities dedicated to serving their homeowners' interests, owning a home on a leased lot exposes homeowners to such potential issues as limited lease terms, rising rents and the possibility that the community will close or transfer ownership. Rent increases can sometimes rise dramatically in mobile home communities such as when the costs of an infrastructure project are passed on to the homeowners ... a perfectly legal maneuver.
Owned lots eliminate these risks. The Delaware Manufactured Home Owners Association (DMHOA) adds that homeowners in owner-managed communities have lower costs of living because owner-managements impose fewer and lower fees.
Financing Considerations
A manufactured home sold without a lot is considered personal property, like a car. Financing choices are usually limited to personal property loans. A manufactured home sold with land, or located on land the homeowner also owns, is real estate. As such, it's eligible for financing with a mortgage loan if the home rests on a permanent foundation. Mortgage loans usually have more favorable interest rates than do personal property loans, and the ability to obtain conventional or government-backed financing makes resale easier and potentially more profitable.
Effects of Land Ownership on Value
According to the DSHA, the long-held assumption that manufactured homes always depreciate in value is inaccurate. Although a home's value depends on a number of factors, the most influential is ownership or control over the land on which the home is located. Owned lots and homeowner control over land, as occurs in homeowner-owned communities, results in a greater likelihood that a manufactured home will appreciate in value.
References
Writer Bio
Daria Kelly Uhlig began writing professionally for websites in 2008. She is a licensed real-estate agent who specializes in resort real estate rentals in Ocean City, Md. Her real estate, business and finance articles have appeared on a number of sites, including Motley Fool, The Nest and more. Uhlig holds an associate degree in communications from Centenary College.