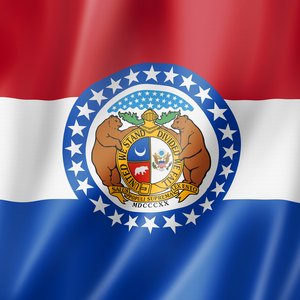 •••
daboost/iStock/GettyImages
Missouri's income tax system is tiered and progressive. You'll pay a higher percentage of your income as you earn more. The state has nine tax rates plus a "zero" bracket for negligible income. Rates range from ​1.5 percent​ to ​5.4 percent​ as of tax year 2021.
Who Must File Missouri Income Taxes?
Anyone who isn't required to file a federal income tax return is exempt from filing a Missouri state tax return, but this isn't quite as black-and-white as it might seem. You may be required to file with the IRS but still be off the hook for filing a Missouri return under some circumstances.
You're exempt from filing a Missouri return even if you must file at the federal level if you're a resident of the state and your state adjusted gross income (AGI) is ​less than $1,200​. This income threshold drops to just ​$600​ for nonresidents who earned income in Missouri. You don't have to file a return if your Missouri AGI is less than the state's standard deduction plus the amount that's exempt, either ​$600​ or ​$1,200​.
​$12,550​ for single filers
​$12,550​ for married filers of separate returns
​$18,800​ for head of household filers
​$25,100​ for married filers of joint returns
​$25,100​ for qualifying widow(er)s
What Are the Forms to Use?
Missouri used to mail the required tax forms to its taxpayers, but that changed in 2020. It's up to you to get your hands on the forms you'll need when you file your 2021 return in 2022.
You can use tax preparation software that's approved for use by the state. It will have all the necessary forms. You can also access any forms you need from the Missouri website at dor.mo.gov/forms as well. The site is set up so you can simply download or print out the forms you need, or you can fill them out online and download or print out the completed copies.
Form MO-1040 is the long version of the state's individual income tax return. Form MO-1040A is the short version. Anyone can use the long form. The list of rules for using the much easier short form is extensive, but the Missouri website also provides a "Tax Form Selector" tool to guide you to the tax return form you must or can use. The short form applies to only the simplest and most basic tax and income situations.
What Are the Tax Rates in Missouri?
The first ​$108​ of your Missouri taxable income is exempt at the state level. The percentages you must pay in taxes add on from there and break down like this for the ​2021 tax year​:
​$109​ up to ​$1,088​ in income: ​1.5 percent​
​$1,089​ to ​$2,176​: ​$16​ plus ​2 percent​ of the amount over ​$1,088​
​$2,177​ to ​$3,264​: ​$38​ plus ​2.5 percent​ of the amount over ​$2,176​
​$3,265​ to ​$4,352​: ​$65​ plus ​3 percent​ of the amount over ​$3,264​
​$4,353​ to ​$5,440​: ​$98​ plus ​3.5 percent​ of the amount over ​$4,352​
​$5,441​ to ​$6,528​: ​$136​ plus ​4 percent​ of the amount over ​$5,440​
​$6,529​ to ​$7,616​: ​$180​ plus ​4.5 percent​ of the amount over ​$6,528​
​$7,617​ to ​$8,704​: ​$229​ plus ​5 percent​ of the amount over ​$7,616​
More than ​$8,704​: ​$283​ plus ​5.4 percent​ of the amount over ​$8,704​
The state's website also offers an "Individual Income Tax Calculator" to help you determine exactly how much you owe.
What Are the Filing Deadline and Extension Process?
Missouri normally follows the same April 15 tax filing deadline that the federal government imposes, but this can be tweaked a wee bit from year to year. It's ​April 18​ in ​2022​ because the 15th falls on Good Friday. Therefore, the due date is postponed to the next business day.
You can ask for a ​six-month​ extension of time to file if April 18 just won't work for you. You're automatically granted an extension if you ask the IRS for one. Then you can just attach a copy of your federal extension form to your Missouri return when you do file. You can also ask for an extension by filing Form MO-60 with the state along with your payment for taxes owed.
Keep in mind, however, that any tax you owe is still due by ​April 18​. An extension of time to file isn't also an extension of time to pay.
What Are the Penalties for Late Filing and Underpayment of Taxes?
Penalties and interest will be charged to you if you fail to meet either the payment deadline or the filing deadline. The Missouri late payment and late filing penalty is ​5 percent​ per month of the amount you owe, provided that you file your return by the appropriate due date in either April or October.
These are two separate penalties, so you'll owe both if you file and pay late. The overall penalty for late filing is capped at ​25 percent​ of what you owe, but interest is charged as well and will accrue on your unpaid balance.
Missouri offers an installment agreement if there's no way you can come up with the cash you owe. Fill out the "Internet Installment Agreement Application" on the state's website.
Where Do I Mail/E-file My Missouri Return?
You can e-file your tax return if you use any tax preparer who's authorized to e-file with the IRS. This includes tax preparation software. Your Missouri return will be included with your federal return, and the IRS will then forward your Missouri return to the state. Otherwise, you can snail-mail your paper return to one of two addresses, depending on whether you also owe a tax bill.
Mail your return to Individual Income Tax, P.O. Box 500, Jefferson City, MO 65105-0500 if you're expecting a refund or have no tax payment due. Otherwise, send it to Individual Income Tax, P.O. Box 329, Jefferson City, MO 65105-0329.
You can also fax your return to ​573-522-1762​ regardless of whether you owe a payment or expect a refund.
How Do I Pay Taxes Due?
The Missouri Department of Revenue accepts tax payments online, but not directly. You must use the NCR Payments payment system website. Otherwise, you can mail in a paper check with your return or pay through your software provider.
You can pay by credit card, debit card or electronic check. Paying by e-check will cost you an additional ​50 cents​ as a "handling fee." The "convenience fee" for debit or credit card charges ranges from ​$1.25​ to ​$2.15​ for payments of ​up to $100​ and ​2.15 percent​ for payments of ​over $100​.
Where Can I Check My Missouri Refund Status?
You can check for the status of any refund you're expecting from tax year 2018 going forward. Visit the state's "Missouri Return Inquiry System" online. You must provide your Social Security number, the filing status you used on the tax return and the amount of the refund you're expecting. Information is available within ​five days​ if you e-filed your tax return or within ​four weeks​ if you mailed in a paper return.
What About Missouri Taxes If You're Self-employed?
Self-employed taxpayers are required to make advance estimated payments of the taxes they'll owe at the end of the tax year. You can do so by filing Form MO-1040ES, which comes with a worksheet to help you figure out how much you should pay. Due dates are quarterly on April 15, June 15, Sept. 15 and Jan. 15, just as they are at the federal level.
What About Missouri Taxes If You're a Business?
The Missouri corporate tax rate is ​4 percent​ of business income for tax years 2020 and going forward. The corporate return begins with the business's federal taxable income then adjusts from there. The return is due by the 15th day of the fourth month after the corporation closes its tax year.
References
Writer Bio
Beverly Bird has been writing professionally for over 30 years. She is also a paralegal, specializing in areas of personal finance, bankruptcy and estate law. She writes as the tax expert for The Balance.