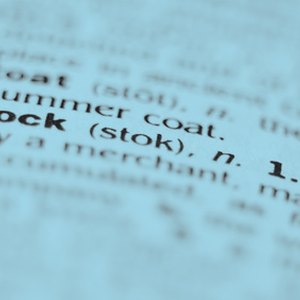 When you have a stock option, you have the right, but not the obligation, to buy or sell a stock at a specified price. To exercise stock options means that you choose to buy or sell the stock.
Types of Stock Options
Some companies give their employees stock options: the option to buy company stock at a specified price. You can also purchase stock options on many available stocks through a brokerage. With a call stock option, you pay a fee for the right to buy a specified number of shares of a specific stock at a specific price (strike price) by an expiration date. With a put stock option, you pay a fee for the right to sell a stock at the strike price by the option expiration date.
In and Out of The Money
"In the money" means that if you exercise a stock option you make money. For example, suppose a stock sells at $10 a share and you have the option to buy it for $8 a share. If you exercise your option, you have an immediate gain of $2 a share. On the other hand, if a stock sells for $10 a share and you have the option to buy it for $12 a share, the option is out of the money. You would have an immediate loss if you exercised your option.
Exercising Company Stock Options
If you have company stock options, you can exercise those options in three ways: pay cash, swap company stock you already own or do a "cashless exercise." Paying cash for the stock is the easiest way to exercise options. Also, some companies will let you trade company stock you already own to get the stock from a stock option.
In a cashless exercise, you borrow the money you need to exercise your option from a stockbroker and, at the same time, sell enough of the shares you receive to repay the loan and cover your costs, including taxes and broker's commissions.
References
Writer Bio
Carol Wiley started writing as a technical writer/editor in 1990, was a licensed massage therapist for almost 12 years and has been writing Web content since 2003. She has a Bachelor of Science in aerospace engineering, a Master of Business Administration, a Certificate in Technical Writing and Editing and a Certificate in Massage Therapy.