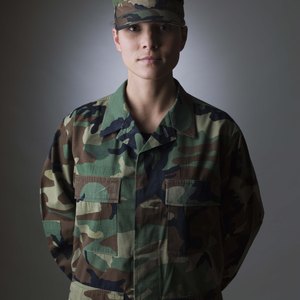 •••
Jupiterimages/Comstock/Getty Images
A Department of Veterans Affairs (VA) home loan guarantee program allows veterans to obtain a mortgage through a VA lender. This type of loan offers advantages such as no down payment, low closing costs and often a lower monthly payment than can be obtained from other sources. You must be pre-approved for the program before choosing a home. This requires a certificate of eligibility and a pre-approval letter.
Certificate of Eligibility
To get a VA loan approval letter you first need the certificate of eligibility, which you can apply for at the eBenefits website, through your lender or by sending VA Form 26-1880 to the address printed on the form. Eligibility requires you to either be military retired, an active military member, Reserve, or National Guard. A surviving spouse of a veteran may also apply if the veteran's death was a result of a service-related disability. Once you obtain the certificate of eligibility, it remains in effect and does not expire. However, a mortgage lender may require you to obtain an updated version within 60 days of your closing date.
Process
Once you have the certificate of eligibility, you can apply for the loan approval letter from an authorized VA lender. This letter should be one of the first things you obtain when you decide to buy a house, even before you start looking at homes. It informs a real estate agent or seller that you are approved to purchase a home of a certain value. To get this letter you must show proof of income and W-2 forms for the two prior years, and you must fill out Form DD-214. Once your lender has the information he will enter it into the loan origination software, which will indicate the loan amount you can afford, and will either pre-approve or deny the loan based on your income and other factors. If you are pre-approved, the lender will issue a VA loan approval letter.
Duration
A VA loan approval letter is effective for 30 days. However, if you do not find a home in that time frame, you can get the letter re-issued and re-printed from the lender. When obtaining a reissuance you no longer need to have your income and other factors analyzed, so the authorization only takes a few minutes, providing there are no major changes to your credit score.
Credit Score Changes
If there are significant changes to your credit score at any time during the letter's duration, the approved VA lender may need to run your financial information through the mortgage software again. An event that changes your score significantly could be something like a new car purchase. In such a circumstance the lender will want to ensure your continued qualifying status, and in this case getting a second VA loan approval letter may take as long as it took to get the first one.
References
Writer Bio
Jennifer Moore began writing in 2006, specializing in Web content, blogs and forum postings. She is a graduate from the most prestigious university in Mexico, Universidad de Las Americas, with a B.A. in international relations, later obtaining a U.S. teacher's degree and an additional CompTIA A+ certification in computer technology. Moore has written for My Mexico Living, BoomersAbroad and various other websites.