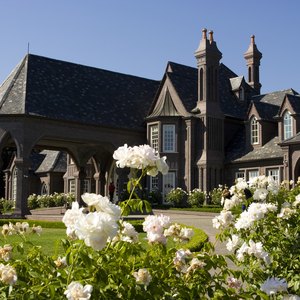 •••
capricornis/iStock/Getty Images
Homes in some California counties, especially coastal areas, come with big price tags. Homebuyers can finance high-end homes with jumbo mortgages. Also known as non-conforming loans, jumbo mortgages exceed certain loan limits set by Fannie Mae and Freddie Mac. In general, a jumbo loan exceeds Fannie and Freddie's conforming loan limits for a specific type of property, but location can play a role in the limits that are set.
The Biggest Jumbo Loans
A loan amount of more than $417,000 on a single-family home is a jumbo mortgage in most parts of the country. In California's most expensive counties, including Los Angeles, Alameda, Marin, Orange, San Francisco, Santa Barbara and Santa Cruz, the jumbo-loan threshold is higher due to higher median home prices. Jumbo mortgages in these high-cost areas have loan amounts above $625,500.
House Size Matters
Jumbo loans are generally used to finance large properties and luxury homes. A jumbo loan in California is even bigger on two- to four-unit homes. For example, a jumbo loan for a two-unit property in a non-high-cost area of the state exceeds $533,850. In a high-cost area, a jumbo loan for a duplex must exceed $800,775.
References
Writer Bio
Karina C. Hernandez is a real estate agent in San Diego. She has covered housing and personal finance topics for multiple internet channels over the past 10 years. Karina has a B.A. in English from UCLA and has written for eHow, sfGate, the nest, Quicken, TurboTax, RE/Max, Zacks and Opposing Views.