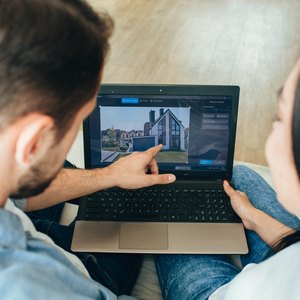 •••
peakSTOCK/iStock/GettyImages
According to a report from the National Association of Realtors, 95 percent of home buyers now search online resources to shop for a home. The ability to review dozens of houses online before arranging for walk-throughs has narrowed down the process considerably.
To sell a house online, home sellers have two choices: work with a real estate agent or sell it themselves. Regardless of which way you decide to go, the journey of selling your house starts with getting it listed on major real estate websites.
Why Sell Your House Online?
Buying and selling houses has become high-tech. It's now the best way to get your home listing in front of the most buyers. Both traditional home buyers and investors use the internet to search for attractive properties.
Actually, it has become more difficult to sell your house in a traditional way. Nearly four out of five home buyers start their home searches online.
To get the most exposure, you must have your house listed in the multiple listing service (MLS), which is an online database that contains all houses being sold by licensed real estate agents.
With a Real Estate Agent
Most people are only involved in selling their houses a few times in their lives. Real estate agents, on the other hand, are involved in selling houses every week. They are professionals. They have the knowledge and experience that an individual homeowner doesn't usually have.
Real estate agents, on the other hand, are involved in selling houses every week. They are professionals. They have the knowledge and experience that an individual homeowner doesn't usually have.
Almost all licensed real estate agents will list your house on MLS and market your home online with the major real estate websites, like Zillow and Trulia. Their job is to get your home viewed by as many potential buyers as possible.
considerable up-to-date knowledge about the local market and pricing trends
suggestions on how to make your home look its best for showings
knowledge to determine the best ways to market your house through websites and social media
savvy negotiation skills that can get the seller the best possible price for the home
lists of service providers such as attorneys and contractors
Without a Real Estate Agent
When you're listing your house as for sale by owner (FSBO), you're responsible for everything. This includes all the marketing such as creating yard signs and setting up open houses, as well as negotiating the price and conditions of the sale and completing all the paperwork.
You have to do your own research on the local real estate market and determine your home's value. You must be careful not to overprice your house, which can increase its time on the market and may eventually lead to price reductions.
The major advantage that home buyers cite when selling by themselves is that they save the ​5 to 6 percent​ commission that would normally be paid to the real estate agents and their brokerages. However, in many cases, FSBO sellers must still pay up to ​3 percent​ agent commission to the buyer's agent.
When selling your house yourself, you must:
Write a persuasive description for your house that emphasizes the major selling points and will arouse interest in buyers.
Clean your house and set the stage to create a good first impression for showing.
Take professional photographs. You can either hire a photographer or do it yourself if you have the skill and a good camera.
Place your listing on the most popular real estate websites and other social media websites.
Screen prospective buyers to make sure they're qualified before you start negotiating an offer that could take your house off the market, only to fall through later.
Arrange times for home inspections.
Negotiate a sale price and accept an offer. Have your real estate attorney review the contract.
Arrange a closing date to sign the paperwork.
Choose a Website
The top real estate websites provide a broad range of services, such as data for pricing your property, finding an agent and listings for approved service providers.
Whether you're selling your house with a real estate agent or selling it yourself, you need to have it listed online with the major real estate websites.
Some websites will list your home on MLS and only charge a flat fee. However, you do not sign a contract with an agent when the listing is the only service they provide. These types of websites don't do anything to promote your home after listing.
Here are several of the most well-known real estate websites.
Zillow: On Zillow, home owners who are selling their houses themselves can list their homes for free. Zillow makes its money by charging agents and property management companies to advertise their listings. One of the most well-known features of Zillow is its appraisal algorithm known as "Zestimates," which gives buyers and sellers an approximate current value for the property.
Trulia: Trulia is good for getting in front of buyers and finding a real estate agent. Trulia tries to distinguish itself by providing more data and market analysis about neighborhoods, such as prices of recent sales and comps of surrounding properties, and a feeling for the personality of the people and community.
Realtor.com – You can use calculators on Realtor.com to estimate your home's appraised value and get advice on the home-selling process. The site also shows you how to select a listing agent that best fits your needs.
Redfin: Homeowners can list their houses on Redfin for as little as 1 percent. You'll have access to a local Redfin agent, get a yard sign and a platform to make arrangements for open houses. For a slightly higher fee, you can get a customized home improvement plan and a list of approved providers for services such as staging, deep cleaning and decluttering.
HomeFinder: This is another right that only provides a place for listing your house. They charge a monthly fee. You can upload as many pictures as you want and share your listing on other social media websites. HomeFinder also lets interested homebuyers send emails directly to you.
Craigslist: In addition to selling every other item available on the planet, you can list your house on Craigslist, which gets several billion page views per month. All you have to do is create a new post, write an attention-grabbing headline with descriptive copy and upload photos. The downside is that you have to be aware of scammers and investors looking to buy properties at below-market prices.
References
Writer Bio
James Woodruff has been a management consultant to more than 1,000 small businesses. As a senior management consultant and owner, he used his technical expertise to conduct an analysis of a company's operational, financial and business management issues. James has been writing business and finance related topics for work.chron, bizfluent.com, smallbusiness.chron.com and e-commerce websites since 2007. He graduated from Georgia Tech with a Bachelor of Mechanical Engineering and received an MBA from Columbia University.