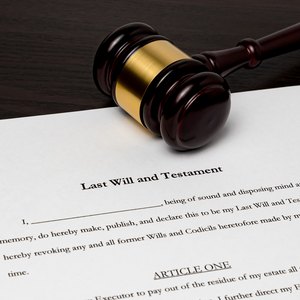 •••
JJ Gouin/iStock/GettyImages
Many are not aware that it is possible to make your final will without a lawyer. The most important thing is that you do your research and make sure that you have met all the requirements in your state. You must also make sure that you understand the filing and notification requirements. Here are some ideas to get you started if you only need a simple will.
Making a Simple Will
If you do not have complex assets and only need a simple will, then you can do it yourself. This is not a good idea if you have many different asset classes, think that someone might contest it or if you have debtors who might try to take your assets. If you have any questions, it is always best to consult a legal professional.
If your will involves a trust, you can still set it up yourself, but you must be careful to do your research. The bottom line is that if you only have a few assets and the will is straightforward, you can do it yourself most of the time. When in doubt, you could always draft it yourself and then have an attorney look over it to suggest changes. This can save you money in the long run and give you peace of mind.
Writing a Living Will
A living will is an important document that provides instructions as to what type of care you would like to receive if you were to become unable to make decisions for yourself. This document tells medical staff whether you would like to be put on life support, given food and water only or whether you would like for them to try to resuscitate you. This is another document that you can do yourself without an attorney.
You can use living will forms that you find online. Like a simple will that distributes your earthly possessions, the procedures and requirements for a living will vary by state. You must make sure that your will follows your state requirements. Otherwise, it could end up being invalid and someone else could end up making your final decisions for you.
Another document that you might want to consider is a medical power of attorney that would allow someone else to make medical decisions for you. They will have the ability to make sure your advanced directives and the provisions of your living will are carried out. This can be a spouse, family member or someone in your faith community. You can also choose one or more alternatives in case that person is unable to fulfill their role.
Make a Will at Home
Here are the steps to making a basic will at home:
Create an outline with the major sections.
Number the pages in the proper format.
Make sure you understand the necessary language in your state.
List your immediate relatives.
Name a guardian.
Name an executor.
Name beneficiaries.
Allocate your property.
Sign the will and have it notarized.
Make sure you have the proper witnesses.

File it according to your state rules.

Let your heirs and executor know you have one and where it can be found.
The most important thing to keep in mind is that if you have any doubts, it is best to hire an attorney. You cannot fix your will after you are gone, so you have to get it right while you are alive. If you want to do your own will but want some advice, you could also have a paralegal help. They can often walk you through the process without the expense of a lawyer.
References
Writer Bio
Adam Luehrs is a writer during the day and a voracious reader at night. He focuses mostly on finance writing and has a passion for real estate, credit card deals, and investing.