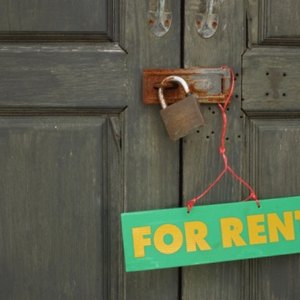 •••
Jupiterimages/Photos.com/Getty Images
What happens when your lease is up on an apartment? It all depends on what you and your landlord would like to happen next. You might be able to stay or leave, or might be required to leave if your landlord doesn't want to renew the lease.
In most cases, leases define all aspects of your landlord-tenant relationship and exist to protect both parties in the agreement from miscommunication or abuse. When a residential lease expires, most landlords or tenants will sever their relationship with one another, finding new lodgings or new renters.
An expired lease doesn't always necessitate that renters immediately vacate their property; however, as in many cases, an implied at-will tenancy is created between the landlord and the tenant.
Both Signers' Lease Obligations
If your lease expires and you stop paying your landlord rent, or use your final month's rent deposit to pay your last lease term, you've effectively severed your lease as planned. Because of this, both the landlord and the tenant may expect the property to be vacated by the date specified in the lease agreement.
In many cases, you will be required to give ​30 days' ​notice that you do not intend to renew. In some states, the landlord can't end the lease early while the tenant can. However, the landlord can keep charging you rent until he finds a new tenant. The landlord must make a reasonable effort to quickly lease the property, such as cleaning and advertising it.
Other end-of-lease expectations, such as the landlord's rights to show the property to future tenants and security-deposit return procedures, begin as defined by the lease or state law.
Continuing With At-Will Tenancy
If you continue to pay rent to your landlord and he accepts it after your lease's original term expires, you're considered an at-will tenant. Although specifics about at-will tenancy vary between states, most states require the landlord (some also require the tenants) to provide advance notice before vacating the property.
The State of Ohio requires a ​30-day​ advance notice, but it will vary by state. Because of this, at-will tenants may not be evicted from their home without advance notice and adequate time to locate and arrange for new accommodations.
Terms of At-Will Tenancy
Landlord-tenant laws differ among states, but in many states, the landlord is required to honor all the terms of the expired lease in an at-will tenancy other than the duration of tenancy. Because of this, prior agreements, such as rent payment procedures, access to property and rent rates, remain in effect.
In many states, a landlord must provide you an advance notice in an at-will tenancy situation before raising rents; this period is usually the same as the state's laws concerning prior notification on terminating an at-will tenancy.
Renegotiating a Lease
If a lease expires and both parties wish to extend the lease agreement, a new lease may be crafted to replace the expired one, advises TransUnion's SmartMove blog. Extending a new lease provides landlords with the security of stable tenancy, while it provides tenants long-term tenancy protection that isn't available from an at-will tenancy.
If both parties renegotiate a lease, some terms may change in the new lease. If a landlord hasn't accepted any rent payments past the lease term, he may demand that tenants sign a new lease in order to remain in the property.
References
Writer Bio
Wilhelm Schnotz has worked as a freelance writer since 1998, covering arts and entertainment, culture and financial stories for a variety of consumer publications. His work has appeared in dozens of print titles, including "TV Guide" and "The Dallas Observer." Schnotz holds a Bachelor of Arts in journalism from Colorado State University.