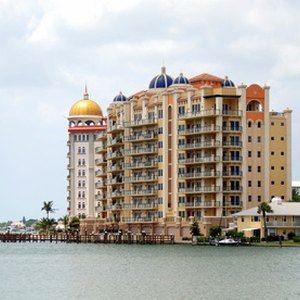 •••
condominium image by Michael Wuelfrath from Fotolia.com
Florida condominiums function under slightly different rules than non-condominium properties in that state. Unlike homes, condominiums are part of larger buildings, and the condo association often has its own requirement for allowing buyers to purchase in that building. As a result, lenders must consider not only the buyer but also the rules of the building and the condo association before approving a mortgage. For buyers who are looking to get a great deal on a Florida condo, however, it is possible to find units that offer a little more flexibility in down payment requirements.
Conventional Mortgage
A conventional mortgage for a condominium in Florida requires the conventional mortgage down payment of 20 percent. While the 20 percent rule is not unique to Florida or to condominiums, it holds pretty firm for this type of property in the Sunshine State. Under some lenders, it is possible to purchase a non-condo residential property with a down payment of only 10 percent, and some lenders will also offer lower down payment options that mirror the options of non-condo properties. For the most part, though, the rule of thumb for a condominium mortgage in Florida is 20 percent down.
FHA Approval
The Federal Housing Administration provides for mortgage insurance to allow buyers to purchase a property when they might not have the full 20 percent down payment. FHA-insured loans allow for buyers to put as little as 3.5 percent down in the purchase of the property, although this means that the payments on the property will be higher. There is an important caveat: the FHA insures loans only if the property represents the buyer's primary residence. In other words, buyers cannot purchase a vacation home or an investment property with an FHA-insured loan.
Other Considerations
The primary consideration when purchasing a condominium in Florida is the rules that the building and the condo association have in place. Some condo associations are flexible and allow buyers to take out any loan they prefer, as long as the lender approves. Other condo associations, however, require that buyers stick with the minimum 20 percent down. In some rare cases, condo associations require that buyers put more than 20 percent down – some upwards of 35 percent – and others do not allow buyers to hold a mortgage at all, meaning the buyer must pay cash for the property. These are unusual conditions, however, and in the majority of cases buyers can expect to purchase a condo in Florida with 20 percent down, or 3.5 percent down under FHA approval.
References
Writer Bio
Kristie Lorette started writing professionally in 1996. She earned her Bachelor of Science degree in marketing and multinational business from Florida State University and a Master of Business Administration from Nova Southeastern University. Her work has appeared online at Bill Savings, Money Smart Life and Mortgage Loan.